On Sunday, a rare annular solar eclipse will be visible in parts of Asia, the Pacific and the western U.S.
May 20, 2012 Annular Solar Eclipse
Unlike a total eclipse, which occurs when the moon passes directly in front of the Sun to block out the entire star, an annular eclipse covers only part of the Sun, producing what looks like a giant "ring of fire." Those lucky skywatchers inside the 8,500-mile long and 186-mile wide "path of annularity" will see the ring phenomenon for roughly five minutes, according to the Associated Press. People in the United States who are west of the Mississippi River but outside of the path of annularity will still see a partial eclipse.
05/20/2012 10:16 PM EDT
Clouds Reflect The Eclipse
You can see an inverse reflection of the eclipse in the clouds! #KSwx twitpic.com/9nhzzt

— Cory Mottice (@EverythingWX) May 21, 2012
05/20/2012 10:14 PM EDT
Eclipse Hits During Wedding Ceremony In Ibusuki, Southern Japan 05/20/2012 10:10 PM EDT
Watching In Sapporo, Northern Japan 05/20/2012 10:07 PM EDT
Awesome NASA View
this is an amazing NASA photo of the a solar eclipse as it begins. 1.usa.gov/K1FDKd

— Mez (@Mighty1ne) May 21, 2012
05/20/2012 10:02 PM EDT
School Children Viewing In Osaka, Japan 05/20/2012 9:59 PM EDT
Little Guy Shows How It's Done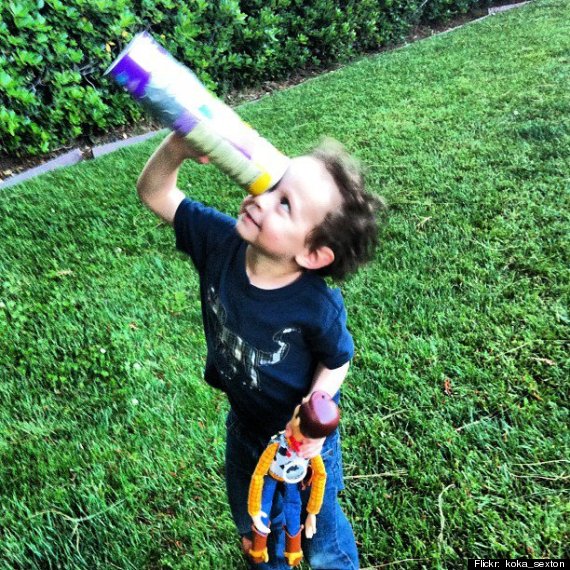 05/20/2012 9:48 PM EDT
Pretty Impressive For A Cell Phone Photo
The ring of fire... Eclipse from my phone.. not the best, but live with the glasses COOL! yfrog.com/odgizqlj

— Elaine B. Street (@RHSTheatre) May 21, 2012
05/20/2012 9:43 PM EDT
Eclipse Action In Yokohama, Japan SUBSCRIBE AND FOLLOW
Get top stories and blog posts emailed to me each day. Newsletters may offer personalized content or advertisements.
Learn more