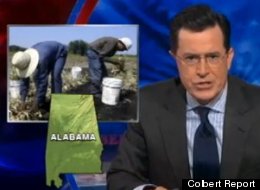 This week's "The Colbert Report" took on immigration as one of the five hot button issues. Colbert blamed Alabama's controversial immigration bill, which "requires police to check papers during routine traffic stops and makes it a crime to knowingly transport, harbor or rent propert to illegal immigrants," as the reason why Hispanic farm workers are fleeing the state.
In true Colbert humor, the advice to those immigrant workers was as follows, "ohhh boohoo amigos, grow a pair of whatever the Mexican word is for 'cojones.'"
Colbert suggested that "Republicans will need to work hard to capture the Latino vote, instead of their current strategy of capturing Latinos." Wise words, Stephen.
But, Mitt Romney might not have to work that hard for the Hispanic vote because isn't he a little bit, just a bit, Hispanic? After all, papa Romney was born in the Mexican state of Chihuahua.
Colbert jokes, "his father lived in Mexico until he set out to a better life with young Mitt strapped to the roof of his car."
Check Out This Slideshow For Some Of Stephen Colbert's Funniest Clips:
Stephen Colbert At His Funniest
In this early video, Stephen Colbert performs a skit with The Second City improv group in Chicago.

Colbert performs with The Second City, a renowned improv group in Chicago.

Colbert was a writer and actor on The Dana Carvey Show in 1996.

Colbert was a regular on the Comedy Central show Strangers With Candy from 1999 - 2000.

Colbert with comedian Ed Helms on The Daily Show during his reoccurring segment "Even Stevphen."

Stephen Colbert and Steve Carell debate on The Daily Show. Colbert was on the satirical news show from 1997 - 2005.

The idea for Colbert's show began in a series of faux commercials featured on The Daily Show in 2003.

Stephen Colbert anchors with Ryan Stiles on the ABC improv show, Whose Line Is It Anyway?

Stephen Colbert in an Whose Line Is it Anyway? appearance.

Colbert took a break from The Colbert Report to attend a filming of Conan with Jon Stewart.

Jon Stewart and Stephen Colbert sing "Can I Interest You In Hanukkah?" in Colbert's 2010 Christmas special.

Arianna Huffington, the president and editor-in-chief of The Huffington Post Media Group, appeared on The Colbert Report in 2012.