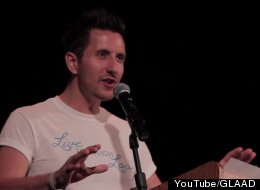 The openly gay man who was ousted from speaking at his high school's graduation ceremony because of his sexual orientation finally got to deliver his keynote speech -- albeit in a different venue.
Dominic Sheahan-Stahl, an alumnus of of Sacred Heart Academy in Mount Pleasant, Mich., instead delivered his keynote to the graduating class of Central Michigan University on Sunday, according to the Gay and Lesbian Alliance Against Defamation (GLAAD).
"I thank you for standing up for what you believe in," Sheahan-Stahl says in the speech, footage of which was released by GLAAD. "I thank you for choosing love, not fear, to guide you in your journey." He continues: "So keep dreaming, everyone, and never let fear get in your way. Always live through love, and always remember, that no one is outside of the love of God."
Sheahan-Stahl, now a New York-based actor, claims he was told that one of the reasons his invitation to speak at Sacred Heart Academy in Mount Pleasant was rescinded because he had posted on his Facebook profile that he is gay along with recent engagement photos.
"I was laying in bed all last night and there are so many things I want to say, and so many things that I couldn't say," he said at the time. "The thing that's sad is that this year is my youngest brother's graduation."
Sheahan-Stahl also described the experience in a blog post for HuffPost Religion, titled "Live Through Love: An Open Letter to Bishop Joseph R. Cistone."
"Through this situation, [Sacred Heart students] are given the message that being gay is something to be ashamed of," he wrote. "They are being told that gay and lesbian people are not worthy of any dignity, no matter what good they are able to do in the world. They are seeing that the mere presence of an openly gay person is seen as a threat, which tells them that they have no worth."
A Facebook page, "Let Dominic Speak," was launched in support of allowing Sheahan-Stahl to deliver his speech, and quickly drew over 5,000 likes.
Take a look at other cases of people being dismissed for being LGBT below:

LGBT Discrimination In The Workplace
A Missouri-based gay music teacher at an area Catholic school was recently dismissed from his job after authorities learned of his plans to wed his male partner of 20 years in New York. Al Fischer was reportedly fired Feb. 17, 2012 from St. Ann Catholic School in north St. Louis County, where he'd worked for four years. Fischer did not comment directly about his dismissal, but instead referred to an email sent to his students' parents after he was terminated. "A family conversation about whether or not justice was served here could be a great thing," he wrote. "I do not want the lesson from this for the kids to be, 'Keep your mouth shut, hide who you are or what you think if it will get you in trouble.'" Fischer's partner, Charlie Robin, told the paper that the couple's relationship was not a secret at the school, and that Fischer was only fired after a representative of the St. Louis Archdiocese overheard him talking to co-workers about his wedding plans. Read the full story here.