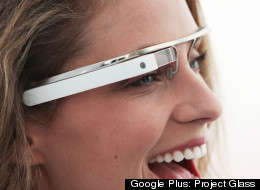 Ever since Google unveiled its tantalizing Project Glass concept video on April 4th, the Internet has been craving fresh details on the secretive "Google Glasses."
Though Google Corporate has stayed mostly mum on the specifics, we do know a few things: They won't be out this year; they won't be able to do everything shown in the video; and they are definitely, definitely real.
We know that Google Glasses are real -- not just a slick marketing fantasy, as some initially scoffed -- for two reasons. First, for months numerous (anonymous) Google employees have been whispering about trying out prototypes, as reported by both the New York Times and 9to5Google. Another Googler told me that he had been to the Google X Lab and walked around with the Google Glasses; though he couldn't offer specific details about its function, he did say that the prototype was -- in a word -- "awesome."
So there's that. People have actually used them.
The other way we know these glasses are real: Over the past month and a half, several high-ranking Googlers have been spotted in public wearing the glasses, both testing them out and, no doubt, showing them off, trying to keep the buzz for the Heads-Up Display specs going.
Below, we've collected all the existing photos of Google Glasses -- and all the photos taken with the glasses themselves, too. Scroll through for the brief, photographic history of Google Glasses -- and stay tuned, because it certainly seems as though there is more Google Glasses news on its way.
Every Picture Of Google Glasses So Far
On April 7, Google co-founder Sergey Brin was the first Googler to be spotted in the wild wearing Google Glasses. He wore the futuristic specs to a charity event in San Francisco. Somewhat ironically, the charity at the event was a foundation fighting against blindness, and the event centered around a dinner eaten in total darkness. Via Flickr of Photographer Thomas Hawk.

Here's Brin with technology journalist Robert Scoble at the same event. You can read more about Brin's outing here. Via Flickr of photographer Thomas Hawk.

On April 12, about a week after Brin's public appearance, Google designer Isabelle Olsson allayed the fears of many a prescription glasses-wearing folk with this photo on her Google+ page. The photo depicts "an early mock-up to show how the device might work with prescription glasses," confirming that those who already wear glasses won't miss out on the fun when Google's augmented reality glasses do emerge.

Most of what we know about Google's Glasses experiment has come from engineer Sebastian Thrun, a Project Glass lead engineer and the head engineer in the secretive Google[x] laboratory. On April 25, Thrun talked to the venerable Charlie Rose about the state of Google Glasses, as well as his Google's self-driving car and his disruptive online education startup Udacity. The interview contains multitudes of information about possible futures for technology, but if you just want the dirt on Google Glasses, the first three-and-a-half minutes of this video are for you.

During the Charlie Rose interview, Thrun snapped this picture of Rose and posted it to his Google+ page -- all while talking, and without lifting a finger. It was the first indication we had that Google's glasses, in their early stages, actually worked.

Thrun posted this photo, snapped hands-free (obviously) with Google Glasses, to his Google+ page on May 8th.

The same day Thrun posted his whirl-around photo of his son, a couple of Google guys made this photo public: The man in the picture is Vic Gundotra, VP of Social at Google, and the photo was taken by Bradley Horowitz, VP of Product at Google, and posted to his Google+ account.

Finally, on Tuesday, May 22, Google employee Jason Mayes uploaded a few photos of CEO Larry Page to his Google+ profile. Page was speaking at the Google Zeitgeist event in England. Mayes has since taken the photos down, but not before our buddies at TechCrunch saved the photos themselves. Via TechCrunch.

Another image of Page from Jason Mayes. Via TechCrunch.

One last look at Larry Page in his company's AR glasses prototype. Via TechCrunch.

Here's the Google concept video that started it all. Google has said that the video was meant to create excitement about the device and to solicit ideas from commenters about what they would like a pair of augmented reality glasses to do. What you see in the video will not necessarily ship with the final product, in other words. Vic Gundotra recently reiterated that point in an interview with CNET. Along with that first video, Google also posted a bunch of prototype designs for its Glasses. These aren't the real deal, but we've included them hereafter for your perusal.

Via Project Glass.

Via Project Glass.

Via Project Glass.

Via Project Glass.

Via Project Glass.