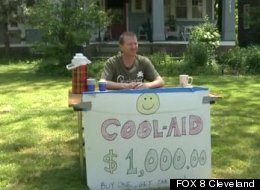 For the low-price of $1,000, one man is offering customers a chance to drink to good health -- his own, that is.
Tobin Northrup, 43, of Lakewood, Ohio is selling a peach-mango drink for $1,000 per cup in an effort to pay off some hefty medical bills, FOX 8 Cleveland reports. Offering a second cup for free, he's selling the drink from a stand in his parents' front yard with the hope of settling his hospital debts after three bouts of pancreatitis and gall bladder removal surgery.
"If I sold 19 'Cool-Aids,' that would probably cover maybe about half," Northrup, a bartender without health insurance who's been unable to work since falling ill, told FOX 8.
Northrup is one of many Americans struggling to pay their bills amid rising health care costs. This year the average cost of health care for insured American families will top $20,000 for the first time ever. And health care costs have increased seven to eight percent each year since 2008 making the U.S. the country with the highest average health care costs of any industrialized nation. By 2037, health insurance will cost more than the median income of Americans.
A 2007 study found that more than 60 percent of Americans who file for bankruptcy do so because of medical bills.
And Northrup isn't the first person to turn to a beverage stand to raise money to pay off medical debts. Six-year-old Drew Cox, for example, raised $10,000 to pay for his Dad's medical expenses by selling lemonade in April.
Others have opted to sell goods besides food. The parents of three-year-old cancer patient Liam Myrick took to selling paintings he made to help cover $500,000 of treatments. Jan Cline of Oregon, meanwhile, raised money to pay for medical bills by running yard sales every weekend before town officials told her that by law she was only allowed to host three yard sales per year.
Here are some other stories about Americans mired in debt:
Bruce Folken was still "out of it" when a hospital employee entered his room and asked if he wanted "to pay now." Afraid the care he was being given would suffer if he said no, Folken agreed as the employee took his debit card from his wallet and charged him $493.60, The Huffington Post reports.

Breast cancer survivor Lisa Lindsay of Illinois was taken from her home in handcuffs and put in debtors' prison over a $280 medical bill that was sent to her by accident. Eventually, she agreed to pay $600 just to settle the charges.

According to the FTC, employees at one debt collection agency threatened a debtor by saying they would "dig her daughter up and hang her from a tree if she did not pay the debt," The New York Times reports.

The West Virginia attorney general filed suits in April against seven debt collectors for allegedly impersonating police officers in order to harass borrowers who in some cases didn't even owe any money.

Eighty-five year-old Anne Sessions spent hours in the hospital incurring a $1,055 medical bill when debt collectors called authorities to falsely report that she was threatening suicide. The debt collector reportedly asked her "how would you do it?"

Colorado resident Kelly Wiedemer spent four nights in debtors prison in June 2011 when a police officer pulled her over for having unregistered plates and discovered she still owed money from an accident that happened in 2009. "I thought debtors' prison was supposed to be unconstitutional," Wiedemer said.

Debt collectors will "set up fake profiles and friend consumers on Facebook, just to get into their personal information," according to one financial planner.

The FTC charged Rincon and six other debt collection agencies for using threats and insults to try and collect money from people who didn't actually owe any.

When an official-sounding debt collector told Wayne and Brenda Foster they'd be dealing with police unless they paid up, the couple reached for their wallets. So did hundreds of others. But thanks to an FTC investigation of fake debt collectors, the multimillion dollar scheme to rip off consumers was shut down in April.

Turns out nice guys don't always finish last. Debt collector Access Receivables increased payments by 40 percent after adopting a new "nice people" strategy emphasizing customer service.