Joplin Tornado: Maddox Prier, Boy With Autism, Saved Family And Said 'I Love You' For First Time (VIDEO)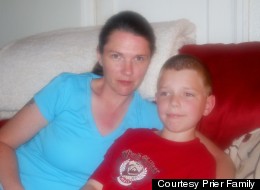 "I hear the horns."
Those were the four words with which Maddox Prier, a nine year old with autism, woke his family before the EF-5 tornado struck Joplin, Mo., one year ago. The family climbed into the bathtub for safety and the storm hit seconds later, kspr.com reports.
Huddled in the bathtub, Janyce told each family member how much she loved them -- but hours after the tornado passed, Maddox -- who spoke his first words at five years old and doesn't express much emotion -- changed her life again:
"We were laying on the floor of the bedroom, and I was just looking at Maddox, and I was like, 'I love you Maddox,' and he goes, 'I love you too, Mommy' and he's never said it since," Janyce told KSPR. "That was the first time he'd ever said it. I bawled and bawled."
With the house and neighborhood destroyed, the family credits Maddox for saving them.
"I don't remember anything about the tornado hitting our house," Janyce told kspr.com. "I just, I guess in there somewhere, I just didn't want to be afraid, so the last thing I wanted to feel was that I loved everybody so, that's what I did."
Watch the video from KSPR above. And read more stories about other Joplin heroes below:
Mark Lindquist, 51, risked his life -- and sustained critical injuries -- while trying to protect three developmentally disabled adults during the tornado that tore through Joplin, Mo., the AP reports. Both houses of the Missouri legislature honored Lindquist for his heroism, but he was left with astronomical medical bills, has no insurance and was denied workers' compensation. Read the whole story, here.

To help rescue the priceless memories that were strewn across Joplin, Mo., in the wake of the tornado, Abi Almandinger started Joplin's Found Photos. The mother of two put her job on hold as she gathered nearly 5,000 pictures. She's already given back more than half of them. Read the whole story here.

Many young professionals who once called Joplin home, left their cushy corporate jobs behind to help rebuild their tornado-torn city. Zach Tusinger, a St. Louis University law graduate whose aunt and uncle were killed in the tornado, was one such volunteer. "We saw our whole world turn upside down," Tusinger told the AP. "When I went back to work, it was killing me." Read the whole story here.

When the tornado struck, Christopher Don Lucas rushed his co-workers and customers at the Pizza Hut where he worked into the restaurant's protective giant freezer. The 27-year-old father of two, who was engaged, was eventually pulled from the freezer and died. "He went out facing the tornado head-on," his father Terry Lucas told the AP. "He didn't flinch." Read Lucas' and other heroes' stories here.

Though Maddox Prier only uttered his first words at 5, at 9 years old, the boy with autism was able to say the phrase that saved his family's life: "I hear the horns." Because he alerted them to the tornado sirens, Maddox and his family had enough time to crawl to safety in the bathtub, KSPR reports. Read the whole story here.