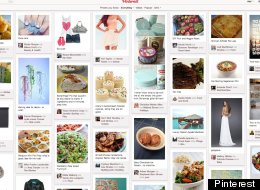 Pinterest has grown up fast. Since its launch in 2010, the social image-bookmarking site has gained 20 million users and has become the web's third most popular social network, after Facebook and Twitter. In May, the site raised $100 million in funding, pegging its valuation at a whopping $1.5 billion.
While the Pinterest craze has extended far and wide (a few mega-fans have even thrown real-life Pinterest parties), there are still plenty of people who have yet to use the site. For those of you who fall into this category and would like to learn more about how to set yourself up on Pinterest, we've compiled nine tips to help you start pinning right away.
Flip through the slideshow below to check them out, and if you'd like a little more advanced help, you can always visit Pinterest's Help page. Once you're more acquainted with the site, consider visiting our gallery of Pinterest apps and tools to enhance the pinning experience (here).
Do you have any good tips for using Pinterest? Share them with us in the comments below!
Pinterest Tips For Beginners
Although Pinterest currently has 20 million users, those interested in signing up for the site must still request an invite or be invited by an existing member to create an account. Once you do receive an invitation, you can connect your Pinterest account to Twitter or register through Facebook. If you choose to do the latter, all of your Pinterest activity will show up on your Facebook Timeline; you can opt out later by visiting the Settings page and switching the "Link to Facebook" option to "Off." An option to turn off the "Link to Twitter" feature is also available.

Before you start pinning, you can easily set up your profile by visiting the Settings page and filling in information such as your first and last name (if you so desire), a few words about yourself, where you're located and the URL to your personal website. You can also upload a picture, which will appear at the top of your Pinterest profile. Alternatively, you can edit your "About" section, link to your Facebook and/or Twitter, fill in a website URL and enter your location directly from your profile by clicking on the tiny icons at the top of the page.

You can find your friends on Pinterest by hovering over your username at the top right-hand corner and clicking on "Find Friends." From there, you can connect your Pinterest account to Facebook, Gmail or Yahoo! to find which of your friends use the site. Clicking on the "Email" option on this page will allow you to invite up to four friends to the site, so they can start using Pinterest, too.

Boards are simply groups of pins, which you can organize in any way you'd like. To create a board, click "Add" in the upper right-hand corner of the page, then on "Create a Board." From there, you can give your board a name and select the category in which it fits best; according to Mashable, the top categories as of March 2012 were "Home," "Arts and Crafts" and "Style/Fashion." You can also add other people who can pin to the board.

A pin contains an image and, often, a description of said image, that you can share on Pinterest. There are two different ways you can add a pin: uploading an image from your computer or using Pinterest's "Pin It" bookmarklet to pull images from a site on the web. To upload a pin, click "Add" in the upper right-hand corner of your web browser, then click "Upload a Pin." You will be prompted to choose an image file from your computer. Once you choose the file, the image will appear along with a drop-down list from which you can choose the board you want to add your pin to and a box where you can describe your pin in 500 characters. After you choose the board and fill in a description, click "Pin It" to add the pin to Pinterest. If you're looking for ideas on images to pin, check out Pinterest's 15 most popular pins of all time.

To pin images from the web, you'll need Pinterest's "Pin It" button, a bookmarklet that allows you to select and pin images straight from a site. You can get it on Pinterest's Goodies page, which also explains how to install it on your web browser. After you have the "Pin It" button on your bookmarks bar, all you have to do is click it when you spot images on a site you may like to pin. Pictures that can be pinned will pop up right in your browser; for example, the images shown on the left, which were found through a search on Flickr, are all able to be pinned from the site. Choose which of the pinnable images you would like to pin, then simply pick the board on which you want your pin to appear. The pin will upload automatically to the board and your page.

To find other pinners to follow, you can browse pins and pinboards by whichever category you choose; just mouse over "Everything" at the top of the Pinterest homepage and look through the list of categories. If a pin looks interesting to you, click on the user's name to view more of his or her pins and pinboards. You can follow a specific pinboard by clicking "Follow" underneath the pinboard's picture on the user's main page. Or, you can follow all of a user's pinboards by clicking "Follow All" near the top of the page. To help you get started on your search for pinners and pinboards to follow, check out 11 of Pinterest's most popular users and 27 of its best pinboards.

Mousing over a pin reveals three different actions you can take: Repin, Like and Comment. To repin another user's pin, click the "Repin" button in its upper left-hand corner. Like pins created with the "Pin It" button, a window will pop up featuring the image you would like to pin, a drop-down list of your pinboards and a small description box. The description box is usually already filled in with what the previous pinner had written. To upload the pin to your page, choose the pinboard on which you would like it to appear and click "Pin It." "Liking" a pin will save it on your page under the "Likes" section but will not place it on any of your boards. And, if you'd like to share your thoughts on a pin, just click "Comment" and write them in the box that appears. You can even mention other users that you follow by writing "@" and then their username, in the same way you would on Facebook or Twitter.

While Pinterest is a fun and engaging way of sharing images, it does have its drawbacks. Whether an image is correctly attributed or not, the practice of pulling pictures from a site without the true owner's permission and sharing them on Pinterest is considered by some to be copyright infringement. To try and solve this problem, Pinterest recently partnered up with sites like Flickr, YouTube and Vimeo to include unalterable attribution statements with pictures pinned from those sites, ensuring images are properly credited to their creators. In addition, the site offers a page through which users can report copyright infringement and a piece of code that, when added to the head of any page, will prevent people from pinning images from that page. But even with these precautions in place, it's ultimately up to the user to pin responsibly. That means sticking to pinning your own content or at least making sure to get an artist's permission before pinning an image from their site.