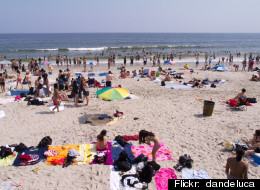 Smelly garbage, hot subway platforms, loud window units. Welcome to summer in New York. Just because you don't own a summer house doesn't mean you're stuck in the concrete jungle. We've compiled thirteen amazing day trips that will save your sanity, and don't even take any planning. On your mark, get set, get out of town!
This gem of an island is so close (The Bronx) but feels so far away. Charter a boat, go fishing, eat delicious seafood waterside, or hit the charming Nautical Museum. The local Chamber of Commerce is the best guide.

If you have a hankering for fishing, head to Freeport, Long Island. Captain Lou knows what's biting (fluke, bluefish, flounder) and how to bait them, so reserve a spot on his boat. This excursion is a winner, hook, line and sinker.

Picnic, ride bikes, eat ice cream, lay in the grass, take in the views (in that order) -- it's all a quick ferry ride away on Governors Island, right in the New York Harbor. Added bonus: If the rumors are true, a beer and wine garden called Little Eva's will be opening its doors soon.

It's basically the Brooklyn Flea at the beach.Rockaway has become such a hot spot that it now has its own ferry from lower Manhattan. And don't forget about Rockaway Beach Club, the 20 (give or take a few) artisanal food vendors who've set up shop on the boardwalk.

About an hour and 20 minutes north lies the most quaint town of Cold Spring On Hudson. Start off by hiking Mt. Taurus and taking in stunning views of the Hudson. You will have worked up an appetite, so head to Brasserie Le Bouchon for delicious farm-to-table French fare. End the afternoon with a stroll through the lovely Boscobel gardens (and more stunning views of the Hudson).

Clothing is optional. That's right, Lighthouse Beach on Fire Island is a nude beach right here in New York. If you wake up and decide it's a no pants (or top) day, this is your destination. If you're not a fan of letting it all hang out, skip this one.

Located in the Hudson Highlands, Bear Mountain Park is 45 miles from NYC, and a playground of activities for all ages: hiking trails, a carousel, swimming pool, zoo, refreshment stands, and picnic areas.

No lifeguards, no snack bars, no bathrooms. Welcome to Fort Tilden Beach. A former Army base, the easiest way to get there is by bike (or a very far walk from the A train). It's BYO everything, but that's the beauty of this quiet island off of Queens.

Contemporary art enthusiasts will get their fix just 59 miles north at the Dia: Beacon museum (a 300,000 square-foot former Nabisco factory). Once your eyes start to glass over, take a stroll through the gardens, then grab a bite at Homespun Foods.

New Haven is 90 minutes away and chockfull of fun activities. Captain Bob's 45-minute Thimble Islands cruise is a must. For lunch, pick up cheese and accoutrements from Caseus for a picnic (or enjoy a panini there). See a play at Long Wharf or Yale Rep Theatre. If you have time for dinner, Union League Cafe is the jam.

It is possible to enjoy the great outdoors while perusing modern sculptures at the 500-acre Storm King Art Center, just an hour north of the city. Enjoy a picnic on the grounds, and if you have time left, hit up Woodbury Commons for outlet shopping just 10 miles away.

Summer and the livin is easy at the Warwick Valley Winery & Distillery, about 75 minutes from the GW Bridge. Pick your poison (wine, draft cider, gin), nosh on superb brick-oven pizzas made on the premises, and enjoy some rays on the patio. Then take in a movie at the Warwick Drive-In before heading home.

Sometimes you just need to go to the mall (there's a/c! and parking!). Luckily, The Mall at Short Hills is nearby. Besides having everything from Chanel to Forever 21, it's possibly the best people watching ever. Hit up the Ritz Diner on the way back for the out-of-this-world brisket-on-latke sandwich.