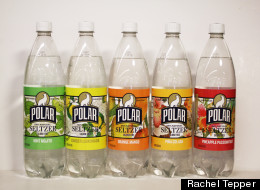 Hunting around for a new summer beverage? Polar Seltzer has released its new summer flavors: Minto Mojito, Ginger Lemonade, Pineapple Passionfruit, Pina Colada and Orange Mango. We put these flavors to the test to see which ones are worth purchasing. The verdict? Best to leave some on the supermarket shelves, but stock up on others to drink on their own, or to mix into cocktails. Similar to our findings from the winter Polar Seltzer taste test, the aromas often overpowered the actual flavor.
The seltzers are available for $1.19 for 1-liter bottles now through August.
Check out the results of the taste test below:
It was unanimous that this flavor had an overwhelming aroma of sunscreen that was "a little scary." It "tastes how it smells, not a compliment," said one. Overall, this was not a favorite, though several thought it could have potential when mixed with rum. We don't recommend that you drink it on its own, though.

Ginger Lemonade received extremely mixed reactions -- some cited it as one of their favorites thanks to the "nice and bright" and "pleasant and refreshing" ginger flavors. Others found it "awful" and "very disappointing." One "would get tired of this quickly."

This was another one that sparked heated debate. Several noted a "mouthwash" and "toothpaste" taste that ruined the drinking experience. "I didn't think I would hate anything more than Pina Colada, but I did. And it was this," quipped one. "Great fresh mint flavor!! I could drink a lot of this," said another. Verdict? It is really gross to most, but very delicious to a few.

This was the overwhelming favorite of the bunch thanks to the test and smell of "actual passionfruit and pineapple." It was refreshing and "tastes like what i want to be drinking all summer long," said one editor. A stand-out.

If Pineapple Passionfruit was the favorite, this gets second place. Though Orange Mango was "little boring," it was easy to drink and reminded us of sherbet and creamsicles. There was a nice balance of mango and orange. "Great fruit taste without an overwhelming fake smell," thought one editor. Note: Polar Seltzer wrote to us to say that it is a 100% natural product -- the flavors are essences derived from things like lemon rind, etc, rather than chemical recreations.