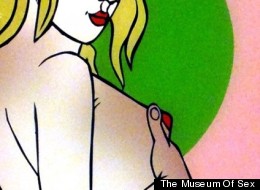 National museum month continues. In today's installment honoring the temples of art and science, we visit a lesser known entity. Sure, it's not the ideal place for a 5th grade school trip, but that doesn't make New York City's Museum Of Sex any less museum-y than plenty of its colleagues. Founded by a Wharton grad in 2002 in the name of educating the public on "the history, evolution and cultural significance of human sexuality," the Museum has already done the honorable New York tourist spot thing and taken on an abbreviated name (MoSex). So let's tour MoSex! Click through below for a mildly NSFW look at the historic, artistic and downright dirty pieces housed in the most ambitious museum you've probably never been to.
Rune Olsen; 2008 Museum of Sex Collection

Designed to prevent young boys from masturbating. Ferier Brothers, Paris; 1890s Museum of Sex Collection

Rune Olsen; 2008 Museum of Sex Collection

By JMR

By ROSTARR

c. 1900s - 1940s

Installation by AIKO

From DICKCHICKEN's Dreams of Childhood installation.

By Wolf Tits

By Tony Bones

By El Celso

The Wonderpuss vibrator, by Wonderpuss.