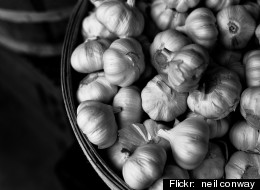 "If the nineties were the decade of Prozac, all hollow-eyed and depressed, then this is the era of Xanax, all jumpy and edgy and short of breath," wrote Lisa Miller in her article "Listening To Xanax" published in New York magazine. We went from being depressed to being overly worried. The cure for both: pills.
But as alternative medicines gain ground, people are becoming skeptical about industrial pharmaceuticals. The decision to take care of our bodies in natural ways is slowly becoming a priority.
But while alternative medicine gains popularity in the U.S., Latin American cultures have relied for centuries on home remedies to cure their ailments.
For many cultures, medical treatment depended on curanderos , or healers, whose medicinal processes usually involved herbs, mysticism and spiritual rituals.
Many of these holistic approaches have survived through centuries in Latin America. It's not unheard of that one should turn to an abuela -- the "wise older woman" -- who prepares concoctions with common ingredients from her kitchen to address everyday ills. From their knowledge, one can learn the best home remedies: assuage sore throats with onions, use milk for our chapped lips and honey for cold sores.
Some are weird, some are funny and some are simply great.
Here are some of our favorite home remedies
You might cringe at the though of it, but just you wait for have the softest lips you've ever had. Boil milk, skim the curd from the top and put on your lips. Ta-dah! Ten minutes later, smooth lips!

Fresh garlic has many healing properties including alliin and sulfur, the ingredients that make garlic an effective antibiotic and anti-viral. Sinus infection? Garlic soup. High cholesterol? Garlic Soup. Cold sores? Garlic Soup. Garlic is even believed to be effective in preventing certain types of cancers--especially gastrointestinal cancers. By helping to lower high blood pressure, garlic is also believed to be successful in preventing strokes.

Need to cure a headache, tired eyes or prevent aging? Eat potatoes. Cut pieces of raw potato and place them on your temples to alleviate headaches or underneath your eyes to get rid of dark circles and puffiness. To keep skin young, drink a glass of raw potato juice every morning. Flickr photo by Ashif

The epazote plant comes from the same family as beets and spinach. Tea made from epazote is commonly used in black bean recipes to ward off some of the "negative" side effects of eating beans. Epazote is also effective for intestinal worm treatment. The remedy: put the entire plant--roots and all-- into boiling water and make a tea. Drink the the tea one hour before eating, then drink more before going to bed. Flickr photo by Michael Contreras

A favorite for soar throats: chop an onion and combine it with a tablespoon of honey in a sealed container or jar. Leave the mix to marinate together overnight. In the morning, once the onion has released its juices, drink a teaspoonful of the juice to ease your cough and throat ache.

For Latinos living in the Caribbean, one home remedy is quite simple. If you scraped your knee or have a cut, just jump in the ocean! Salt water is a natural antiseptic that helps clean and sterilize open wounds.

Honey is a natural anti-bacterial and antiseptic. To cure cold sores, put honey on a piece of cotton and stick it on the sore a few times a day. Honey is also good for dental care. It cleans teeth and dentures and stops bleeding gums and canker sores.

If your baby has the hiccups, roll a string (preferably red) into a coil, lick it and put it on the forehead. Hiccups gone. This is an old west-Indian trick and a favorite among some Peruvians.

In some cultures, it is believed that the best way to cure a bee sting is to apply saliva from a pregnant woman. Apparently the secret is in the elevated levels of estrogen in a pregnant women's spit. For a less complicated approach (in case you don't know any pregnant women willing to spare some saliva) grab three different types of leaves and rub them against the bee sting.
Disclaimer: These home remedies have not been medically proven.