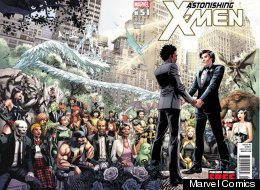 There's seemingly no end to One Million Moms' anti-gay wrath, as the notoriously right-wing group is now condemning both DC Comics and Marvel Superheroes for introducing gay characters into their phenomenally popular comic book titles.
"Children desire to be just like superheroes," members of the "online activism campaign," which is a division of the American Family Association, write on their website. "Children mimic superhero actions and even dress up in costumes to resemble these characters as much as possible. Can you imagine little boys saying, 'I want a boyfriend or husband like X-Men?'"
They continue:
"Unfortunately, children are now being exposed to homosexuality at an early age. Comic books would be one of the last places a parent would expect their child to be confronted with homosexual topics that are too complicated for them to understand. Children do not know what straight, homosexual, or coming out of the closet even means, but DC Comics and Marvel are using superheroes to confuse them on this topic to raise questions and awareness of an alternative lifestyle choice. These companies are prompting a premature discussion on sexual orientation."
The post then concludes with a call to supporters, asking them to send "an email urging them to change and cancel all plans of homosexual superhero characters immediately."
Earlier this month, Marvel Comics announced that its first openly gay hero, super speedster Northstar, would tie the knot with his longtime boyfriend in an issue of "Astonishing X-Men," due out June 20.
That news followed a similar announcement made by DC Comics co-publisher Dan DiDio, who told attendees at the Kapow Comic Convention in London that an "established" superhero, originally introduced as straight, would come out in a future issue.
This latest tirade comes just months after One Million Moms members threatened to boycott JCPenney, after the retail group hired Ellen DeGeneres, who is openly gay, as its spokeswoman. Following the DeGeneres debacle, One Million Moms slammed Urban Outfitters last month for a photo of a same-sex kiss which appeared in its catalog, and also condemned Toys 'R' Us for carrying a controversial January issue of Archie Comics, which depicted a gay interracial wedding between two active military officers.
Members of the group blasted JCPenney yet again this month, after the Texas-based chain included a presumably lesbian couple as models in its Mother's Day shopping catalog.
Take a look at several other gay-related protests against retail outlets and other businesses below:

LGBT Related Boycotts 2012
One Million Moms threatened to boycott JCPenney after the Texas-based retail chain appointed the openly gay DeGeneres as their spokesperson. "By jumping on the pro-gay bandwagon, JCPenney is attempting to gain a new target market and in the process will lose customers with traditional values that have been faithful to them over all these years," the group wrote on its website. Meanwhile, DeGeneres took to her show in defense. "Here are the values I stand for: I stand for honesty, equality, kindness, compassion, treating people the way you'd want to be treated and helping those in need," she said.

This past holiday season, LGBT rights advocates called for shoppers to skip the Salvation Army's iconic donation buckets due to the organization's conservative view of homosexuality. "The Salvation Army has a history of active discrimination against gays and lesbians. While you might think you're helping the hungry and homeless by dropping a few dollars in the bright red buckets, not everyone can share in the donations," Bil Browning noted on The Bilerico Project. "The organization also has a record of actively lobbying governments worldwide for anti-gay policies -- including an attempt to make consensual gay sex illegal."

NYU freshman Hillary Dworkoski has launched a protest against the fast food chain, saying she is disturbed by the company's reported financial support of several groups with "anti-gay" motives, including Focus On The Family, Exodus International, and the Family Research Council. A petition calling for the university to close its Chick-fil-A franchise, reportedly the only one in Manhattan, has attracted over 10,000 signatures since Dworkoski launched it in January.

Iowa residents and LGBT rights advocates launched a Facebook boycott against Des Moines bakery Victoria's Cake Cottage after its Christian owner refused to bake a wedding cake for a lesbian couple. "I didn't do the cake because of my convictions for their lifestyle," Victoria Childress, who met the couple during a taste-testing appointment, said. "It is my right, and it's not to discriminate against them. It's not so much to do with them, it's to do with me and my walk with God and what I will answer [to] Him for." After the couple's story made national news, a Facebook group was launched in their support, and currently has about 600 members.

LGBT rights advocates cried foul after the electronics retailer made "large political donations" to a group in Minnesota which used the money to advance Tom Emmer, an anti-equality candidate. Although Best Buy scored high on the Human Rights Campaign's Corporate Equality Index and officials argued that they do not claim to agree with all issues a particular candidate promotes, HRC and Georgia Equality authorities nonetheless planned a 2010 protest, noting, "Best Buy has failed to respond at all to our community."

LGBT rights advocates blasted Target for donating to conservative PAC Minnesota Forward, a group which supported anti-gay marriage candidate Tom Emmer during the Minnesota gubernatorial campaign in 2010. Pop diva Lady Gaga, a vocal LGBT rights supporter, quickly nixed her deal for an exclusive special edition of her "Born This Way" album as a result. Target officials, who have apologized for their support of Emmer, recently filed a lawsuit against the gay rights group Canvass for a Cause, after members demonstrated outside several San Diego area stores.

The gay rights group Stonewall threatened to boycott Heinz after the condiment company yanked this controversial mayonnaise ad which featured two men kissing in 2008. As The Guardian reports, the ad was pulled after just a week on the air after viewers complained to the Advertising Standards Authority that it was "offensive" and "inappropriate to see two men kissing."

The American Family Association (AFA) originally planned to boycott Wal-Mart during the company's post-Thanksgiving sales in 2006 over the retail group's support of gay rights groups, but eventually withdrew its objections. As the Associated Press reported, Wal-Mart officials said in a statement that the company "will not make corporate contributions to support or oppose highly controversial issues unless they directly relate to our ability to serve our customers," but later said the company would continue working with the Gay and Lesbian Chamber of Commerce and other gay-rights groups on specific issues such as workplace equality.