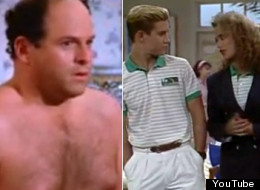 Warm weather, sunshine, the beach, cursed tiki statues, this is the stuff of summer TV episodes.
With the hot sun comes vacation, and our favorite TV characters aren't immune to the need of a little R&R. When you think of the Hamptons, it's hard not to think of "Seinfeld" and George Costanza's shrinkage problem. "I Love Lucy" made the summer road trip a sitcom staple.
From the sitcom family vacation ("Modern Family" and "The Brady Bunch" both headed to Hawaii) to the group of friends hanging out, sipping cocktails on the beach ("Sex and the City"), these are our favorite quintessential summer TV episodes to celebrate Memorial Day Weekend.
Tell us: What are your favorite episodes celebrating summer?
TV Shows Celebrating Summer
It took an entire episode of airport mishaps to get the Pritchett-Dunphy clan on the plane, but once they were in Hawaii, the hijinks didn't end. The episode ended on a very touching moment -- Phil finally giving Claire her dream wedding -- leading them into a strong first season finale.

When Carrie & co. decided to high-tail it to the Hamptons for a nice relaxing summer weekend, it turned into an all-out war between their (more) mature priorities and the hard-partying, man-stealing ways of the 20-something girls -- including Big's new lady Natasha (Bridget Moynahan) in her first appearance on the show. A highlight: Charlotte getting crabs -- and not the East coast delicacy kind -- from her younger summer fling.

What better way to kick off a 3,000-mile cross-country roadtrip than with a show tune sing-along? The Mertzes and the Ricardos hit the open road for a California adventure in this iconic vacation episode.

When Jerry goes on vacation in the Hamptons, where practically all New York City residents escape their busy lives, naturally things go haywire. Shrinkage, ugly babies and topless women. That pretty much sums up summer right there, doesn't it?

Nothing says summer like a family road trip: In the summer of 1969, the Arnolds took a road trip to Ocean City, but they were starting to outgrow the family tradition. Paul, however, couldn't have been more excited to join his best friend and though Kevin wasn't exactly looking forward to the vacation, he ended up finding romance after being heartbroken by Winnie, who met a guy named Chip in Maine.

When the entire gang took summer jobs at the Malibu Sands Beach Club -- except Lisa, who was a member there, of course -- Zack butted heads with his boss, Mr. Carosi (Ernie Sabella), while he was falling hard for his daughter Stacey (Leah Remini). The Miss Liberty Pageant was a personal favorite, the pinnacle of Zack's single-guy flirtations. By the end of the episode, Zack was single no longer.

Who could forget the tiny shorts, permed hair and ukuleles that constituted the Brady family's trip to Hawaii? Taking the clan out of their element and letting them roam free in a different environment has become a TV tradition we still enjoy today: the sitcom family vacation, usually reserved for premiere or finale episodes. Plus, the cursed tiki statues still haunt us to this day.

"Friends" taught us many things: breaks in relationships cause trouble; ugly naked neighbors provide hours of entertainment; and jellyfish injuries can be soothed with urine. So, thank you, "Friends." Thank you from the bottom of our peed-on stings.

After a particularly drama-laden season involving the possible death of the slimy Chuck Bass, Season 4 of "Gossip Girl" kicked off with Serena and Blair looking fabulous and fashionable and basking in the glory of a summer in Paris. Tres chic and we're tres jealous.

Tony and his crew's business excursion to Naples, Italy in "Commendatori!" proved that not every summer vacation is a smashing success. Christopher spent the entire trip locked in his hotel room doing heroin, Paulie's many neuroses got in the way of his mission to reconnect with his ancestral homeland, and while Tony found a new market for his stolen cars, he also brought back Furio, who would serve as a fierce enforcer until he fell in love with the boss' wife.

For the Season 6 finale of "Full House," America's favorite San Francisco family got quite the treat: The Tanners and co. headed to Disney World in the 1993 two-part episode. While hanging out in Mickey's hood, Danny tried to propose to Vicky; Jesse and the Rippers rocked the castle stage (and Becky's world) with "A Dream is a Wish Your Heart Makes"; D.J. saw her ex Steve's face on every single Disney prince; and Michelle became the "Princess for the Day," but ran away from her sisters and Kimmy, who decided she was taking her temporary title too seriously.

In "The Jet Set," a weekend California vacation gave Don Draper about all he could handle. He and Pete set out on a business trip to L.A. to try to win some new business at a defense contractors' convention, but after the airline lost Don's luggage and he met a sexy traveling party girl named Joy, he ditched the convention and followed her to a posh mansion in Palm Springs. All was well until he passed out by the pool, seemingly from heat exhaustion, although a doctor would later tell him there was nothing physically wrong. The incident led him to reconnect with Anna Whitman and come to terms with his stolen identity.