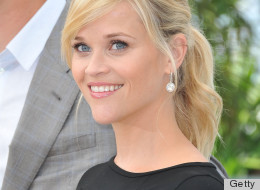 Considering Reese Witherspoon is pregnant, she's been rather coy about sporting her baby bump. She opts mostly for black clothes and has yet to publicly confirm the pregnancy, even though it's, uh, kind of obvious.
The actress popped up in Cannes on Saturday to promote her new movie "Mud," a Mark Twain-inspired tearjerker which also stars Matthew McConaughey. (We guess he's back?)
Reese played down her baby bump in the beautiful south of France in a ruched black jersey dress -- and some vivid fuchsia strappy heels.
While Reese might not be as much of a dedicated heels-while-pregnant fan as Jessica Simpson and Snooki, her choice of footwear is definitely a bold move. Not that we don't love the shoes -- pink heels are practically our spirit shoe -- we just hope she's comfortable!
Reese has favored figure-hugging ensembles throughout her pregnancy: she played tennis this week in a tight exercise outfit and sported a bathing suit. She's reportedly due in August or September.
Check out pics below!
PHOTOS: