California State University Renovations: School System Spends Millions Improving Presidential Homes (PHOTOS)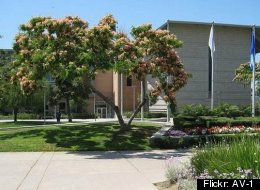 This article comes to us courtesy of California Watch.
California State University campuses have in the last 10 years spent more than $2 million renovating eight university-owned presidential residences – rehabbing kitchens, expanding garages and even hiring interior designers, according to figures provided by the university.
At least half of the spending came from state funding sources, and the figure does not include annual maintenance and repairs.
(SCROLL DOWN FOR PHOTOS)
CSU Fullerton took heat earlier this month for providing incoming President Mildred Garcia with a $300,000 remodel to the historic El Dorado Ranch, which is the president's residence, while CSU Northridge received criticism for spending $115,000 to rehab the home of newly named President Dianne Harrison.
But Garcia and Harrison are among five campus leaders in the past 10 years whose appointment as a CSU president came with a six-figure renovation to their university-owned residences. Presidential homes often double as the location of official university functions.
Cal Poly Pomona spent $167,000 in state funds to replace the plumbing, renovate the kitchen and install new windows at the Manor House in 2004, the year after inaugurating President J. Michael Ortiz.
In 2011, the year President Elliot Hirshman was appointed, San Diego State University spent $257,000 on kitchen upgrades, new windows, pool replastering and other projects to spruce up University House – about $100,000 more than was previously reported.
And Cal Poly San Luis Obispo shelled out $230,000 in 2011 on lighting replacements, kitchen upgrades, new wood flooring and more for its University House when the campus welcomed President Jeffrey Armstrong. That came on top of $200,000 in renovations the university had completed in 2010 – including repairs to the event tent, termite tenting and a new roof for the family room.
The $430,000 spent over two years was also about $100,000 more than previously reported.
"I didn't realize it was that much money," said Glen Thorncroft, a mechanical engineering professor at Cal Poly San Luis Obispo and president of the campus faculty union chapter.
Thorncroft said that when faculty heard initial figures on how much was spent to renovate the house, the reaction was mixed.
"There were some people who felt like maybe it costs that much to refurbish," Thorncroft said. "The problem is, it's just so disjointed from the budget realities that it's hard to fathom that we're spending these kinds of monies on things that aren't paying for classes for our students or going to hire faculty to teach the classes."
In fact, the Central Coast campus has spent more money on renovations for its on-campus presidential residence than any other campus with CSU-owned properties in the past decade. Projects performed since 2004 have cost Cal Poly San Luis Obispo $831,000, and 99 percent of that came from state funding.
Cal Poly San Luis Obispo's former President Warren J. Baker moved out of the presidential residence in 2004, when he opted for a $60,000 annual housing allowance afforded by CSU.
While 11 university presidents and the system chancellor live in university-owned residences, leaders at 12 campuses receive the $60,000 annual housing allowance instead, including San Francisco State University and CSU East Bay.
After Baker moved out, Cal Poly San Luis Obispo repurposed University House as an event center and spent $384,000 from 2004 to 2008 on renovation projects. More than half of that spending went toward making the space compliant with the Americans with Disabilities Act, while the rest went to patio resurfacing, a new stucco wall, deck repairs, plumbing and heating repairs, and more.
After the 2010 upgrades, the university turned the house back into a residence for Armstrong. The university used about $6,200 in foundation funds to pay an interior designer. Photographs on the designer's website show new maple and cherry flooring and a remodeled kitchen with granite countertops and maple cabinetry.
Thorncroft said some faculty members credited Armstrong for not taking the annual stipend that Baker had received.
"One could make the argument that the money at least stayed in house," Thorncroft said. "It's just still – $400,000 seems excessive."
Six-figure renovations are not standard for every new CSU president, however. California Maritime Academy President William Eisenhardt saw no major remodeling projects when he arrived at his new home, a three-bedroom, two-bathroom house on the Vallejo campus. The same went for Dianne Harrison when she started at CSU Monterey Bay in 2006 and for Mohammad Qayoumi when he began work at San Jose State University in 2011.
After President F. King Alexander landed at CSU Long Beach, the university spent $68,000 to add a bedroom and expand the one-car garage to fit two vehicles. Alexander has since donated $43,500 to the Miller House Fund, officials said.
CSU Dominguez Hills spent about $32,000 installing hardwood floors and painting its three-bedroom Carson house when Mildred Garcia took the reins there in 2007.
And not all presidential residence renovations are created equal. Cal Poly Pomona spent about $26,000 to renovate the kitchen, including new appliances, at the Manor House, a historical four-bedroom home on campus that was built in 1926. At CSU Fullerton's El Dorado Ranch, the kitchen rehab cost $147,000 and included the repositioning of drains and supply lines.
The list below provides details on all of the university-owned homes where presidents reside. It does not include the universities that provide only a housing allowance.
CSU Presidential Home Renovations
CSU System Office: CSU Chancellor Charles Reed lives in the State University House in the Belmont Shore neighborhood of Long Beach. Square feet: 6,000 Bedrooms: 4 Bathrooms: 7 Built: 1930 Assessed value: $642,573 (in 2008) Renovations: No major renovations over the past decade.

CSU Dominguez Hills: Until she moves to CSU Fullerton in a few weeks, President Mildred Garcia lives in the university-owned house in Carson. Square feet: 2,296 Bedrooms: 3 Bathrooms: 3 Built: 1999 Sales price: $392,500 (in 2000) Renovations: The year Garcia arrived in 2007, CSU spent $32,155 on renovations using foundation funding. Garcia also paid for several upgrades to the home herself, including stainless steel appliances, new baseboards and window coverings, officials said.

CSU Fresno: University House is on Christmas Tree Lane in the Old Fig Garden neighborhood of Fresno. John D. Welty has been president of CSU Fresno since 1991. Square feet: 7,300 Bedrooms: 6 Bathrooms: 7 Built: 1941 Renovations: In the last decade, the university has spent $76,010 on renovations using state funding. The biggest chunk of that spending occurred in 2004, when CSU spent $24,000 on landscaping, including new trees, lamps, posts and more.

CSU Fullerton: The presidential residence, El Dorado Ranch, is a few miles from campus. After renovations are complete, newly appointed President Mildred Garcia will move in this summer. Square feet: 6,991 Bedrooms: 5 Bathrooms: 7 Built: 1919 Renovations: The university is spending $300,000 in surplus revenue from its auxiliary organizations to renovate the property.

CSU Long Beach: The Miller House, in Long Beach's Park Estates, is home to President F. King Alexander. Square feet: 5,150 Bedrooms: 3 Bathrooms: 4 Built: 1964 Renovations: In 2007, the year after Alexander came to CSU Long Beach, the university spent $68,000 to add a bedroom and study area to the house and expand the garage from one- to two-car capacity. The university did not provide information as to whether the funding came from state or non-state sources.

California Maritime Academy: The on-campus house is home to President William Eisenhardt, who is stepping down this summer. A presidential search is under way. Square feet: 2,111 Bedrooms: 3 Bathrooms: 2 Built: 1945 Renovations: None in the last decade.

CSU Monterey Bay: The on-campus house is a converted duplex consisting of a separate private residence and an adjoining public space. Square feet: 3,848, including 2,825 for the private residence side Bedrooms: 4 Bathrooms: 3.5 Built: 1990 Renovations: None in the last decade.

CSU Northridge: The presidential residence is about two miles from campus. Square feet: 3,400 Bedrooms: 4 Bathrooms: 3.5 Built: 1966 Renovations: The University Corporation is paying $115,000 this year for renovations aimed at improving guest services and accommodations, including rehabbing the kitchen and upgrading a bathroom.

Cal Poly Pomona: The Manor House, a historical Mediterranean home on campus, was constructed by W.K. Kellogg. Square feet: 4,000 Bedrooms: 4 Bathrooms: 5 Built: 1926 Renovations: The university has spent $360,112 in state funds in the last decade renovating Manor House. Improvements included replacing plumbing and electrical, remodeling the kitchen, replacing windows, extending the garage, and adding an accessible restroom.

San Diego State University: President Elliot Hirshman lives in University House in Alvarado Estates, not far from campus. Square feet: 5,216 Bedrooms: 4 Bathrooms: 4 Built: 1962 Sales price: $1.2 million (in 2000) Renovations: The university spent $257,000 using a combination of donor funds, lease revenue and catering revenue to renovate University House, including interior and exterior painting, replacement of large windows, a kitchen renovation, new carpet, pool replastering, a catering kitchen and more.

San Jose State University: President Mohammad Qayoumi lives in this house near the San Jose Municipal Rose Garden. Square feet: 4,500 Bedrooms: 5 Bathrooms: 5 Built: 1926 Renovations: There have been no renovations since the house was acquired by the university in 2005.

Cal Poly San Luis Obispo: President Jeffrey Armstrong moved into the on-campus University House in 2011. For seven years before that, the building had served as an event space only. Square feet: 5,089 Bedrooms: 4 Bathrooms: 3.5 Built: 1928 Renovations: The university has spent $831,000 on renovations in the past decade, largely using state funding.
Erica Perez is an investigative reporter for California Watch, a project of the nonprofit Center for Investigative Reporting. Find more California Watch stories here.