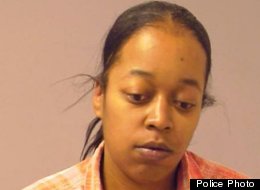 Police believe a 30-year-old Chicago woman was intoxicated when she allegedly stole an ambulance from a South Side hospital, then crashed it into two parked cars about a mile away.
Cassie Weathersby, of the city's West Side, was arrested Sunday and charged with possession of a stolen vehicle and driving on a suspended license and under the influence of alcohol, according to CBS Chicago.
Police say that Weathersby stole a Chicago Fire Department ambulance parked outside St. Bernard Hospital in Englewood at approximately 10:50 p.m. Sunday, according to NBC Chicago. Weathersby then allegedly fled east across the Dan Ryan before crashing into another vehicle on the 6700 block of South Indiana Avenue.
A judge ordered her held on $25,000 bond on Monday, according to Fox Chicago. Weathersby will next appear in court on June 4 to face the felony charges against her.
Police say Weathersby was not injured and told NBC the motive behind the theft was as yet "unclear."