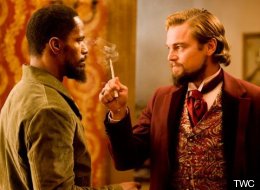 If it's the day after Memorial Day, it's time for some more "Django Unchained" stills.
Yahoo! has debuted six new photos from Quentin Tarantino's upcoming film, including one of Jamie Foxx and Leonardo DiCaprio (which you can see on the left of this post). Foxx plays the title character in Tarantino's Spaghetti Western-y revenge thriller, while DiCaprio plays the film's heavy, plantation owner Calvin Candie.
Footage from "Django Unchained" debuted last week at the Cannes Film Festival to rave reviews. For all of us regular folk, it's rumored that a trailer for "Django Unchained" will be attached to "Prometheus" when Ridley Scott's film gets released next week.