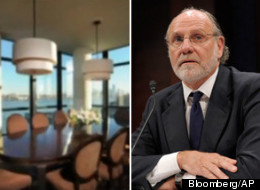 It seems former MF Global CEO Jon Corzine has been hit by the housing crash.
The ex-Governor of New Jersey recently sold his Hoboken penthouse apartment for $2.8 million, 14 percent less than what he paid for it in 2008, Bloomberg reports (h/t Business Insider). The 2,400 square foot apartment, which features a jacuzzi in the master bedroom and "smack-you-in-the-face views of the city," was regarded as the "No. 1 luxury property in Hoboken" when Corzine bought it, real estate broker Kevin Dowd told Bloomberg.
The former Senator and Goldman Sachs CEO is one of many Americans dealing with declining property values. Home prices have dropped by one-third since 2006 and may only just now be beginning to tick up again.
The housing crash isn't the only crisis Corzine is dealing with, though. Corzine is coming off the bankruptcy of MF Global last fall when the brokerage firm made a failed $6.3 billion bet on European debt, losing more than $1 billion worth of customer funds. Even with that money now largely accounted for, the collapse is a major blemish on Corzine's resume. The Obama campaign returned $70,000 worth of donations to Corzine in December as result, according to Bloomberg.
Still, he's likely not sweating over the money lost on his Hoboken penthouse. Before MF Global's collapse Corzine reportedly netted more than $8 millon in compensation last year. Such a hefty pay package could explain why Corzine hasn't shyed away from the real estate market as of late. Just weeks before MF Global's bankruptcy, Corzine was reportedly shopping for a chateau in the south of France. A few months later, Corzine was again checking out office space at 40 Wall Street, an address just around the corner from the New York Stock Exchange, the Wall Street Journal reports.
But Corzine isn't the only well-known name to decide to do some spring real estate cleaning, nor the only one to take a hit. Meg Ryan recently listed her home at 42 percent price cut while Bily Joel, Lil' Wayne and Harrison Ford, among others, have all put their homes up for sale.
Check out Jon Corzine's role in the collapse of MF Global below:
James Giddens, the trustee overseeing the liquidation of MF Global, told the Senate Banking Committee in April that $1.6 billion worth of lost customer funds had been found and his analysis "is substantially concluded," CNNMoney reports.

In a big turning point for the brokerage firm, in 2010 MF Global Holdings hired Jon Corzine, a former chief executive at Goldman Sachs, former U.S. senator and former Governor of New Jersey. Corzine returned to the financial industry after losing his gubernatorial reelection bid to Chris Christie in 2009.

Jon Corzine made risky moves in his mission to turn MF Global into a big Wall Street player. After a period of aggressive trading didn't earn the profits Corzine had hoped for, the firm delved into the foreign debt market, making $6.3 billion worth of large and heavily leveraged bets on distressed sovereign debt in troubled European countries like Spain and Italy.

Europe's economy continued to melt. MF Global investors panicked when they caught wind of the billions in leveraged bets, and on Oct. 31 MF Global filed for bankruptcy. It was called the first American financial casualty of the European debt crisis.

During the firm's collapse, federal regulators discovered that $630 million in customer money couldn't be accounted for. A federal investigation ensued, and forensic accountants found the amount was actually closer to $1.2 billion. Experts suspected the client money was used inappropriately for company purposes.

The investigation shed light on Jon Corzine using his personal influence in Washington to lobby against restrictions on how firms can invest customer money.

On Nov. 4, four days after the firm filed for bankruptcy, Jon Corzine voluntarily stepped down. He had not been accused of any wrongdoing.

In early December federal regulators adopted the 'MF Global rule' to prevent other firms from using client funds to buy sovereign debt. Regulators restricted the transaction that allowed MF Global to borrow money from its own customers.

On Dec. 8 Jon Corzine testified before Congress on the missing money. Speaking to his former colleagues in the Senate, Corzine said he was "stunned" by the missing client funds. He offered an apology but said, "I simply do not know where the money is."

Corzine testified that he didn't know any customer money was missing until the day before the firm filed for bankruptcy. But a financial executive claimed Crozine "was aware" of a $175 million transfer from customer accounts to a European affiliate of the firm.

Ex-CEO Jon Corzine allegedly authorized the transfer of around $200 million in customer funds to pay down an overdraft just days before the firm collapsed, Bloomberg reported in February.

MF Global executives denied having significant knowledge of an authorized transfer of around $200 million in customer funds to avoid an overdraft. Edith O'Brien, an executive who wrote an email about the transfer at the time, invoked the Fifth Amendment.