 Story comes courtesy of LA Weekly
[Updated at the bottom with UCLA noting that its athletic scholarships come from non-taxpayer funds.]
Should a multimillionaire's son be able to get a free-ride scholarship to a state school that has been struggling with budget cuts and raging student protests?
If that son plays football well, guess so.
Sean "P. Diddy" Combs' teenage boy Justin Combs is getting a full scholarship, worth a reported $54,000, to UCLA:
The U.K.'s Daily Mail reported the news over the holiday weekend and, of course, immediately noted that the son of a guy worth nearly half a billion dollars was getting a free ride.
And we'll note that UCLA is a school where student tuition and fees have nearly tripled in the last 10 years.
The Mail: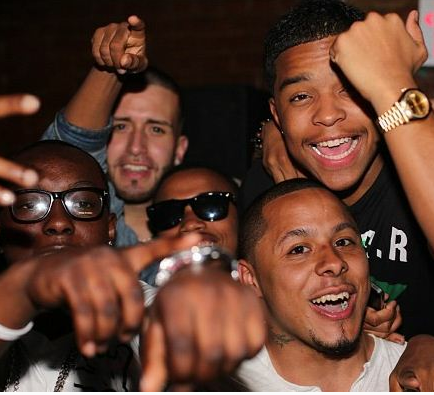 Justin Combs, top right. (Photo: princejdc)
He is the richest man in hip-hop and last year his wealth was estimated by Forbes magazine to be $550 million.
However, Sean 'Diddy' Combs won't have to trouble his fortune to pay for son Justin's higher education.
After the news of the scholarship broke CNN immediately asked: Should P. Diddy's son return $54,000 college scholarship?
He sealed his fate with UCLA last week after graduating from high school in New Rochelle, New York, where the 18-year-old wrapped up with a 3.75 GPA. At 5 feet, 9 inches and 170 pounds he's small, but apparently effective.
Last week Combs, apparently celebrating his graduation, tweeted photos of himself and friends posing next to a $300,000-plus Maybach.
That's possibly the car his father reportedly bought him for his 16th birthday.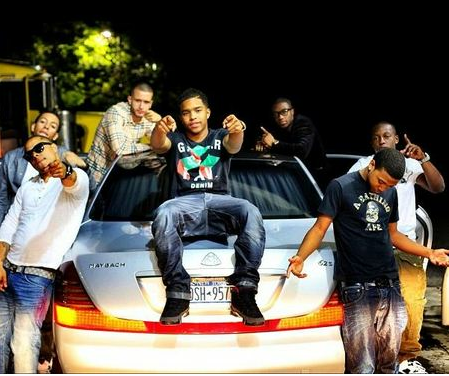 (Photo: @jdior)
It's a free ride that could pay for half dozen full-ride scholarships to UCLA.
UPDATE:
[Added at 1:30 p.m.]: A UCLA spokesman wants you to know that the school does a lot for students who need financial help:
We certainly want to emphasize that 42% of UCLA undergraduates have their full tuition covered by need-based financial aid. Also, 41% of UCLA students receive a federal Pell Grant, among the highest percentages in the nation. In addition, one-third of all revenue generated by tution is dedicated to financial aid. These are clear indidations that UCLA is a leader in serving low-income students.
[Update at 4:09 p.m.]: UCLA spokesman Ricardo Vazquez adds that "UCLA enrolls more low-income Pell Grant recipients than the entire Ivy League combined" and says:
Unlike need-based scholarships, athletic scholarships are awarded to students strictly on the basis of their athletic and academic ability, and not on a student's financial need. Athletic scholarships - such as those awarded to football or basketball players - do not rely on state funds. Instead, these scholarships are entirely funded by Athletic Department ticket sales, corporate partnerships, media contracts and private donations from supporters.
Each year, UCLA awards the equivalent of approximately 285 full athletic scholarships to outstanding student athletes. The scholarships are used by the Department of Intercollegiate Athletics to pay the students' tuition and fees as well as room and board. In this respect, UCLA is no different than the overwhelming majority of Division I institutions.
Follow LA Weekly on Twitter, Facebook, and read more from their news blog The Informer.
PHOTOS: WHERE THE STARS' KIDS GO TO COLLEGE
Where The Offspring of the Elite Go to School
The 20-year-old daughter of Jack Nicholson and Rebecca Broussard has made inroads to follow in her dad's path, already having roles in several hit movies (including Click, The Princess Diaries 2: Royal Engagement and Something's Gotta Give) and serving as Miss Golden Globe in 2007. For now, however, she's keeping a low profile as a student at Brown University.

Theo, Stephen Spielberg's adopted son (he was initially adopted by Spielberg's wife, actress Kate Capshaw, before her marriage to Spielberg, who later adopted him) is currently a senior at Yale University interested in music, comparative literature and journalism -- he interned at New York magazine last summer.

Spielberg's daughter Sasha, 19, studies at Brown University and appears in movies on the side -- she's been in The Love Letter, The Terminal, and Indiana Jones and the Kingdom of the Crystal Skull.

Denzel Washington's daughter, Katia Elizabeth (left), is currently a senior at Yale University. Washington's son, Malcolm, attends the University of Pennsylvania's Arts and Sciences College and plays for the university's basketball team. Above right, Father Denzel watches at one of Malcolm's (inset) basketball games.

Ashley, little sister of Lauren Bush and niece of former president George W., is a junior at Columbia University. Ashley has said that she prefers theater to politics and wants to be an actress.

Burrell, daughter of hip-hop legend MC Hammer, attended the University of Texas at Austin, taking classes during the summer of 2009 to graduate early. She is received a dual degree in radio-television-film and music.

Tiger Woods' niece, Cheyenne, is currently a sophomore at Wake Forest University. When she's not studying psychology, she spends the majority of her time playing -- surprise, surprise -- for the school's golf team. Eventually Cheyenne wants to play professionally, and might be able to -- she recently won her first victory at the Bryan National Collegiate. At Wake Forest, Cheyenne says that the students "don't make a big deal" about her famous (and now infamous) uncle.

Bruce Willis and Demi Moore's middle child is currently a freshman at Brown University. Last March, when Demi heard the news, she Tweeted, "Scout is going to Brown next year! So proud she has worked her butt off."

After graduating from high school with a rating of 100th-best shooting guard in the country as a high school senior by ESPNU, Michael Jordan's son went on to play basketball sophomore at the University of Central Florida. Now in his sophomore year, Jordan caused Adidas to terminate its sponsorship deal with UCF when he refused to wear their shoes, insisting instead on wearing Nike Air Jordans out of loyalty to his father.