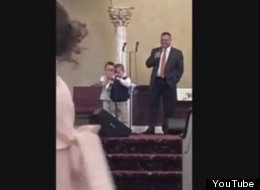 Disturbing footage of what appears to be a young child's choral performance is going viral in the blogosphere.
The congregation in the church, which has been identified as the Apostolic Truth Tabernacle Church in Greensburg, Ind., gives a standing ovation after the child sings, "I know the Bible's right, somebody's wrong...ain't no homos gonna make it to heaven."
A number of high profile lesbian, gay, bisexual and transgender (LGBT) bloggers and allies have re-posted the video, including Towleroad and Joe. My. God. All have noted that the child was undoubtedly coached by adults for his performance.
"Interview with a Vampire" author Anne Rice also posted the video to her Facebook page, noting, "In this country, Christians can teach toddlers to hate and to persecute, and we, through the automatic tax exemption for churches, foot the bill."
Of course, the video is merely the latest in what has become an onslaught of anti-gay, right-wing declarations.
View others below:

Horrific Anti-Gay Statements
The pastor, identified on YouTube as Charles L. Worley of Providence Road Baptist Church in Maiden, N.C., condemns President Obama's much-publicized endorsement of same-sex marriage while calling for gays and lesbians to be put in an electrified pen and ultimately killed off. "Build a great, big, large fence -- 150 or 100 mile long -- put all the lesbians in there," Worley suggests in the clip, reportedly filmed on May 13. "Do the same thing for the queers and the homosexuals and have that fence electrified so they can't get out...and you know what, in a few years, they'll die out...do you know why? They can't reproduce!"

Ron Baity, founding pastor of Winston-Salem's Berean Baptist Church and head of the anti-marriage equality organization Return America, referred to homosexuality as "a perverted lifestyle" in a Sunday sermon before telling his congregation that lesbian, gay, bisexual and transgender (LGBT) people should be prosecuted, Good as You is reporting. "For 300 years, we had laws that would prosecute that lifestyle," he is quoted as saying. "We've gone down the wrong path. We've become so dumb that we have accepted a lie for the truth, and we've...discarded the truth on the shoals of shipwreck!"

"So your little son starts to act a little girlish when he is four years old and instead of squashing that like a cockroach and saying, 'Man up, son, get that dress off you and get outside and dig a ditch, because that is what boys do,' you get out the camera and you start taking pictures of Johnny acting like a female and then you upload it to YouTube and everybody laughs about it and the next thing you know, this dude, this kid is acting out childhood fantasies that should have been squashed."

Tim Rabon, pastor at Raleigh's Beacon Baptist Church, condemned states such as Massachusetts, Connecticut and Maryland which have already "re-defined" marriage to include lesbian, gay, bisexual and transgender (LGBT) couples. As heard in this recording, Rabon asked his congregation, "What is stopping them from refining marriage from a person and a beast? We're not far from that."