Following Kat Von D's 2010 house fire, the former "LA Ink" star has been served with a lawsuit from her insurance company, which claims that she was responsible for starting the fire.
State Farms has filed a nearly $1 million lawsuit against Jesse James' ex after initially covering $909,199 in damages, according to E! Online.
Documents state that the fire was caused by unattended lit candles, which "subsequently started a fire within the premises." The reality star's cat Valentine died in the blaze.
But Von D took to Twitter to explain that she was not responsible for the house fire because she wasn't even home on Nov. 20, 2001, when the fire was started.
"Contrary 2 rumors-I did NOT burn my house down(I was on my booktour during the fire) and no, I did NOT kill my own cat," Von D tweeted Wednesday with a link to a previous Facebook note she wrote, commemorating her lost pet.
"As some of you know, my house burned down right at the half way mark of my book tour," she wrote in January 2011. "And it's weird because almost everyone around me feels really bad for me. I know its all coming from a good place, and I definitely appreciate all the thoughtful condolences, not just for my loss of "stuff" but more importantly for the loss of my baby kitten, Valentine. But I'm honestly OK with it all if you gimme a chance to explain."
Von D's representatives have yet to comment on the lawsuit.
Click over to E! Online to check out the lawsuit documents.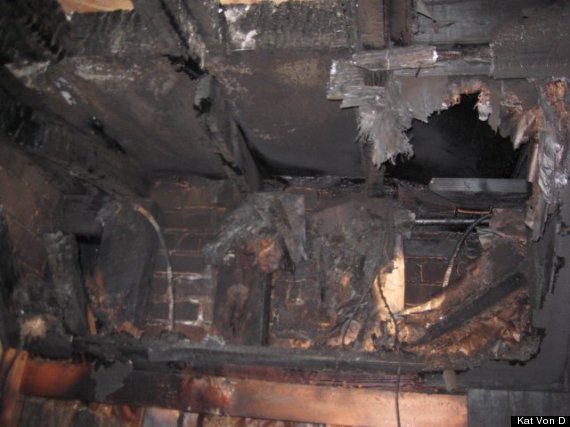 ALSO ON HUFFPOST:
PHOTO GALLERY
BEFORE YOU GO
Celebrity News & Photos
PHOTO GALLERY
Celebrity News & Photos