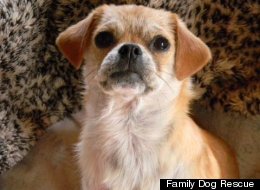 Summer is almost upon us, and there's nothing like an insanely adorable pet to help burn off that San Francisco fog. Whether you're searching for a jogging partner, a cuddle buddy or just someone to welcome you with a kiss when you get home, look no further.
This week's batch of adoptable pets comes from Northern California Family Dog Rescue. Family Dog Rescue was founded in 2010 based on the belief that the human-animal bond is both a powerful healer and teacher. They focus on rescued dogs who do well with families and kids.
(SCROLL DOWN FOR PHOTOS)
Family Dog Rescue takes in dogs from all over California and occasionally beyond. They rescue pups with special needs, including ones who are deaf, blind, or missing a limb. They make it a point to rescue dogs that wouldn't have a chance otherwise.
Family Dog Rescue has an urban shelter in San Francisco, but it relies heavily on a network of foster homes and constantly needs volunteers from foster parents to dog walkers and occasional drivers.
All the dogs featured are spayed/neutered and microchipped before adoption, and come with low rate vet plans as well as a free visit to one of Family Dog Rescue's partner clinics.
Scroll through the slideshow below and consider taking home one of these precious faces today!
Adele is a very smart, five month old, female Australian Shepherd. She is partially blind and partially deaf, but that doesn't hinder her at all.

Bunny is a lovable, 5 year old, 75 pound, female, American Bulldog/Olde English Bulldog Mix.

Clara is a sweet and sassy, seven month old, female, Terrier mix.

Logan is a handsome 5-6 year old, male, Wire Haired Pointing Griffon.

Grace is a two year old, female, American Pit Bull Terrier.

Pavo is a 2-3 year old, male, Poodle/Tibetan Terrier Mix with a big personality.

Piglet is a 10-12 month old, male, Boxer mix, who loves dogs and people.

Marian and Vivian, named after a set of famous San Franciscan twins, are shy, female, 6-8 year old, Chihuahuas, and a bonded pair.

Charlie is an 8 month old, male, Border Terrier mix, and might be the cutest and friendliest dog ever.

Travis is an extremely happy, male, 6 year old rough Collie mix.

Wadsworth is a three year old, Royal Pekinese.