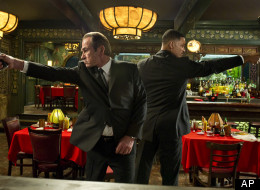 "Men In Black 3" has already earned over $212 million in global grosses, including more $21 million in China -- the highest-grossing territory for the Sony film outside of the United States.
Unfortunately for Chinese ticket buyers, they haven't actually seen "Men In Black 3" -- at least in full.
Thirteen minutes of "Men In Black 3" were cut out of the film by the Chinese government.
According China's Southern Daily newspaper (via The Telegraph), a large section of "Men In Black 3" was discarded by officials because of how it portrays the government's position on Internet censorship. (Censorship about censorship -- it's all very meta.)
The offending scene takes place in New York City's Chinatown, and features Agent J (Smith) and Agent K (Tommy Lee Jones) fighting with a bunch of disguised aliens. As is "Men In Black" franchise custom, when the battle stops, innocent bystanders -- in this case, a group of Asian-Americans -- have their memories wiped clean to prevent stories about the aliens reaching a wider audience.
"This could have been a hint on the use of internet censorship to maintain social stability," the paper wrote.
It's not the first time China has censored a U.S. import: "Pirates of the Caribbean: At World's End" was famously cut because of how it portrayed Chinese pirates, and Kate Winslet's topless scene in "Titanic" was removed for the 3D release.
Of course, there could be a silver lining to the "Men In Black 3" censorship: by cutting 13 minutes out of the film, Chinese theaters can screen the movie more times per day -- which might potentially lead to higher grosses. Considering the film was a slight disappointment at the U.S. box office, every little bit helps.
[via The Daily Telegraph]
The franchise is no longer the zenith of blockbusterism, and the gooey effects from Hollywood veteran Rick Baker look overly familiar, but "Men in Black 3" remains an amiable comedy with some fondly familiar faces.

"Men in Black 3" arrives in the multiplexes of the world with no particular agenda. Which may be part of the reason that it turns out to be so much fun.

You may be wondering what thrilling, creative idea caused the filmmakers and stars to resurrect this franchise. The answer: none.

It's better than the first one.

Brolin's performance is funny, masterful, confident, and more than a little unsettling. If one human being can sample another, that's what's going on here.

Sonnenfeld's mildly overachieving film isn't essential, but it finds just enough ways to justify its existence beyond the insatiable demands of commerce.

Sonnenfeld and Cohen move their baby along with an integrity and gait that ought to serve as a blueprint for other filmmakers faced with the particular challenges of reviving big-ticket and time-dated hunks of pop culture.

More like an attempt to reenergize a franchise than rebottle the lightning that electrified the original.

When even the most charismatic actor on the planet can't fake excitement, you know you're in trouble.

I'm still not convinced anyone really needs it, but this is a respectable effort in the circumstances.