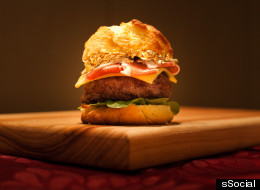 Last week's launch of Serendipity 3's Guinness World Record-winning Le Burger Extravagant got us thinking: can the most expensive burger in the world really only be $295?
It turns out, if there's a significantly bigger chunk of change burning a hole in your pocket, you are in luck. Here are six more of the most expensive burgers in the world. (We hope you like truffles, they're everywhere.)
World's Most Expensive Hamburgers
The Absolutely Ridiculous Burger at Mallie's Sports Bar & Grill in Southgate, Michigan comes in at $499 per burger. But that's not all that's special about this burger: it's also the Guinness World Record holder for the biggest burger on the planet, weighing 185.6 pounds. (According to Mallie's website, you can also get this monster delivered for $2000.)

Not content to let Serendipity 3 take the crown for most expensive burger in their hometown, 666 Burger has thrown down the gauntlet with the Douche Burger. The team at the NYC food truck, told Gothamist that the (appropriately priced) $666 sandwich is covered and stuffed with "rich people shit." That is: a foie-stuffed, gold-leaf-wrapped, Kobe patty smothered with caviar, lobster, truffles, Gruyere melted with Champagne steam and BBQ sauce made using Kopi Luwak coffee (research on this coffee is best done after lunch).

Paris Las Vegas', Le Burger Brasserie priced its 777 Burger intuitively. It's $777. The Kobe beef and Maine lobster burger is topped with caramelized onions, Brie, crispy prosciutto and 100-year aged balsamic vinegar. Oh, and it's accompanied by a bottle of Rose Dom Perignon champagne, which may help account for the price.

Chef Hubert Keller has already won James Beard awards and a Michelin star, now he's vying for most expensive burger in the world. At the Las Vegas outpost of his restaurant Fleur, you can order up the FleurBurger 5000: a Wagyu beef and foie gras patty, topped with truffle sauce and shaved black truffles, on a brioche truffle bun. This burger that sounds like a robot is served with a 17 year old bottle of Bordeaux (a 1995 Chateau Petrus).

You read that correctly. A few years ago, Hardee's (known to some regions of the U.S. as Carl's Jr.) created a $6000 combo meal that includes one of its $6 burgers, an order of fries and a $5,994 bottle of Petrus '82 Pomerol Bordeaux. Legend has it that this is available on the Room Service menu at The Palms. Thanks for throwing in the free fries, I guess?

As far as we can tell, at $10,000 the uSocial burger, created as a charity auction item by Australian advertising agency uSocial, is the most expensive burger in the world. What makes this burger worth $10,000? For starters, the patty is a blend of Australian Wagyu beef with a solid white truffle core. That gets topped with a slice of aged cheddar and a generous portion of Jamón Ibérico de Bellota, a rare Spanish ham from "free-range Iberian pigs which feed almost exclusively on acorns during the last period of their lives." The burger is then layered with sliced white truffle and a 24kt gold leaf, drizzled with a reduction of 8-year aged Aceto Balsamico vinegar and sandwiched on a 24kt gold leaf, saffron and black truffle brioche bun. Bidding starts at $10,000, with the proceeds split between over a dozen charities.