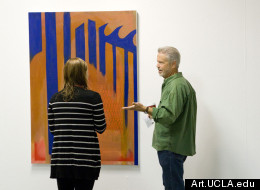 Which school is ranked as the best college to earn a Masters of Fine Arts?
According to US News & World Report, it's Yale University. But there are a couple art schools and the University of California, Los Angeles nipping at Yale's heels.
US News ranked the top graduate schools with fine arts programs, based on the results of a peer assessment survey by art school deans and other top art school academics.
Check out the 8 schools with the best fine arts programs:

New Haven, CT Photo Credit: Jdbrandt

Providence, RI Photo Credit: John Phelan

Chicago, IL Photo Credit: Alanscottwalker

Los Angeles, CA Photo Credit: brent

Richmond, VA Photo Credit: Jeff Auth

Valencia, CA Photo Credit: Coolcaesar

Pittsburgh, PA Photo Credit: mewtu/cpt

Bloomfield Hills, MI Photo Credit: Danielcausa

Baltimore, MD Photo Credit: Spike55151
For the full list, head over to US News & World Report's website.