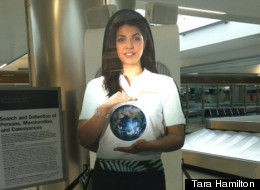 WASHINGTON -- Dulles International Airport, following the lead of London, Frankfurt and other airports, has added a virtual assistant greeting international travelers.
Paige, a 3-D hologram, aids international travelers just before they reach customs, providing information about what forms of identification they'll need. Paige is on loan for a three-month evaluation period before the airport makes a decision on the future of their 3-D aide.
Other transportation hubs will be testing the technology. The Port Authority of New York and New Jersey will install trial holograms in LaGuardia, John F. Kennedy International Airport and Newark Liberty International Airport this summer.
Although Paige is the first hologram at a D.C.-area airpot, she's not the first example of artificial intelligent life in the nation's capital. Ariel, an "artificial intelligence life form" has been answering questions about "about Washington, DC and about life in general" since Jan. 1, 2005, when she was created by Cleveland Park resident Bill Adler.
Ariel was designed "to answer questions about Cleveland Park, and to help [Cleveland Park neighborhood email group] members with basic list functions," according to Ariel's website. (She's become rusty on basic questions over the years.)
View a slideshow of Paige and other holograms rendering human labor unnecessary.
Holograms Replacing People
The Dulles International Airport is testing out Paige for a three-month trial.

An airport experimenting "virtual" boarding agent, left, is displayed at Paris' Orly airport, on the southern outskirts of Paris, Thursday, Aug. 18, 2011. The pilot project began last month, and has so far been met with a mix of amusement and surprise by travellers, who frequently try to touch and speak with the strikingly life-like video images that greet them and direct them to their boarding gate.

Artist Chris Levine views his hologram image of Her Majesty Queen Elizabeth II entitled 'Equanimity' in the National Portrait Gallery's exhibition 'The Queen: Art & Image' on May 16, 2012, in London, England. The exhibition, which opens to the public on May 17, 2012, and runs until October 21, 2012, features a wide-ranging display of images of The Queen from throughout her 60 year reign.

A picture taken on April 2, 2009, shows an hologram shown during an exhibition dedicated to famous French director and actor Jacques Tati. The exhibition, curated by French director and author Macha Makeieff and review Stephane Goudet gives the visitor a glimpse into Tati's artistic universe through a visual and sensorial circuit, from April 8 to August 2, 2009.

A picture shows a 3D hologram of a burlesque dancer at a preview of an exhibition by French shoe designer Christian Louboutin showcasing 20 years of the famous red-soled shoes at the Design Museum in London on April 30, 2012.

Rapper Snoop Dogg, left, and a hologram of deceased Tupac Shakur perform onstage during day 3 of the 2012 Coachella Valley Music & Arts Festival at the Empire Polo Field on April 15, 2012, in Indio, Calif.

People watch a hologram of Cartier craftsman during a press preview of the Cartier exhibition at the Tokyo National Museum on March 26, 2009.

Korean swimmer Park Tae-Hwan poses with Michael Phelps hologram appearance during the Speedo Swimsuit Launch press conference at the National Museum of Emerging Science and Innovation on Feb. 12, 2008, in Tokyo.

Singer Alicia Keys, left, sings with a hologram of Frank Sinatra onstage during the 50th annual Grammy awards held at the Staples Center on Feb. 10, 2008, in Los Angeles.

Hologram versions of the girl group Girls Aloud is seen in the window of a Superdrug store during a Sunsilk photocall on Kensington High street on June 14, 2007, in London.