'Perks Of Being A Wallflower' Photos: First Look At Emma Watson And Logan Lerman (PHOTOS)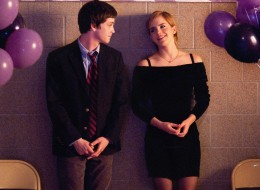 "Perks of Being a Wallflower," the upcoming adaptation of Stephen Chbosky's famed coming-of-age novel, arrives in theaters in September, but you don't have to wait that long to get your first look at the new film.
Below, find new pics of stars Emma Watson, Logan Lerman, Mae Whitman and Ezra Miller in the Pittsburgh-set "Perks of Being a Wallflower." The film focuses on a young teen (Lerman) entering high school and the friends (Watson, Miller, Whitman) who help him through the tough times.
This is a big few days for "Perks of Being a Wallflower": its new trailer will debut at during the MTV Movie Awards, and fans can chat with the cast and crew on the "Perks" Facebook page beginning at 8:30 p.m. PST/11:30 p.m. EST on Sunday.
Directed by Chbosky, "Perks of Being a Wallflower" arrives in theaters on Sept. 14. Check out the film's poster below: