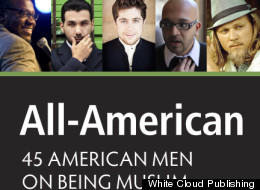 Editor's Note: This introduction, written by Wajahat Ali, and the photographs come from the recently published book: All-American: 45 American Men on Being Muslim (I SPEAK FOR MYSELF)
American and Muslim.
To some, this might seem like the greatest oxymoron since military intelligence, or affordable housing, or…American Muslim.
According to the essays compiled in this book, however, there at least forty-five men whose narratives prove that individuals can live and identify fully as both Muslim and American—without conflict.
And apparently they're not that rare.
In traditional times in Muslim lands, the storyteller was more valuable than the swordsman. The storyteller was responsible for sharing the tribe's history and narrating tales that reminded them of their shared values, identity and legacy.
In the seventh century, a merchant from Saudi Arabia was given a revelation in the Qur'an, Islam's Holy Book: "Oh those who believe, we have made you of different nations and tribes, so that you may know one another."
And how do we get to know a people, really?
Even in America, we often say, "Hey man, tell me your story." So, here are forty-five American Muslims telling their story.
We're a bunch of Whirling Dervishes constantly in motion—with ecstasy, love, fear, panic, hope, and energy in no short supply.
The American Muslims within these pages are all unique protagonists of their universal narratives who proudly claim both Islam and America as core foundations of their identity. From an Iranian American breakdancer and a white convert who embraced Islam through Hip Hop and The Autobiography of Malcolm X, to South Asian Americans who found their calling through stand-up comedy and others who discovered a passion for politics. Presented here are poets, scientists, a US soldier, and a teacher. These men run the gamut from married, divorced, straight, and gay, to single and ready to mingle (or Facebook poke).
Remember, the storyteller was once more valued than the swordsman. In today's world, we have enough swords and bombs and hate and fear.
We need more storytellers to share their tales of love, hope, pain, resilience, and understanding. We need stories that are by us, but for everyone. And maybe even new stories about the tastiness of peanut butter and hummus sandwiches.
All American- 45 American Men on Being Muslim
Growing up as an outcast made me want to be like everyone else. My father didn't agree with this, though. Driving home from school one day, my father yelled at me for getting a "satisfactory" grade on my third grade report card. He roared, "You want to be like everyone else? What in your life is just satisfactory?" Appar¬ently I didn't have pain receptors as a child because I replied, "this car." Just so you know, we had a 1992 maroon Toyota Camry. Hasan Minhaj is a comedian, actor, and writer based in Los Angeles, California. He currently plays "Seth" on ABC Family's State of Georgia, and is a series regular on MTV's Disaster Date.

My father was raised a staunch Catholic in Boston. He planned to become a Jesuit until, as a teenager, he came across Thomas Paine's The Age of Reason and brought the deist manifesto's rational¬istic critiques of the Bible to his priest. He explored other religions on his own for a time, including Islam, without finding much that he liked. Then he made the acquaintance of a thoughtful gentle¬man in California from the then-young nation of Pakistan. Liking what he learned about Islam through this new friend, he converted in 1957, just before shipping out to Korea with the Marines. A decade later in Copenhagen, my Lutheran-raised Danish mother likewise discovered and embraced Islam through a friendship with a Pakistani coworker. These two Pakistanis happened to be kin; a trans-Atlantic courtship by mail ensued and culminated in my fu¬ture parents' unlikely marriage in 1971. I was born in Boston in 1972, and my brother arrived five years later. So, despite my deathly pallor and red hair, I was raised a Muslim, and until the age of five had the unexpected first name of "Muhammad Akram. Svend White was raised a Muslim in Boston and has lived and worked in Europe, South Asia and the Persian Gulf. He has a Masters Degree in Religion (Islamic Studies) from the University of Georgia, Athens.

Enter a masjid on any given day and find a community who prays as if their forehead were lips longing to kiss the earth. Sujoot: the process of raising your soul by bowing your body. Amidst the insan¬ity of crumbling economies and empire, I find serenity and protec¬tion in these moments of surrender. Yet salaat does not miraculously erase the racialized reality that I/you/we live in. Where are you from? follows me even here, into this space I call my soul song. Mark Gonzales is an HBO Def Poet with a Master's in Education, a Mexican and a Muslim. He is currently serving as visiting professor and artist in residence for the Institute for Diversity in the Arts at Stanford University.

Being Muslim and American did not have to conflict. Being Black and Muslim did not have to conflict. When I converted, I had a deep respect for my fellow Muslim brothers. But I saw them putting in overtime in their efforts to emulate Arab Islam, and it was causing tension and fighting between them. They were trying to be something they were not, instead of finding a way to be whole, non-conflicted, African American Muslims. I didn't sign up for this. I just wanted to know God. I didn't take off the chains of White Supremacist Christianity to replace them with the chains of Arab Supremacy. Adisa Banjoko is an author and journalist based in Fremont, California. He is a pioneer journalist on the relationship to Islam and Hip-Hop.

After joining the Army, I found myself, like many other soldiers, in Afghanistan. The average soldier had no idea I was Muslim unless I let them know, and usually I had no reason to do so. My colleagues knew because I would tell them I had to go pray, or I had to fast for Ramadan. However, there were a few times that I had to remove my cloaking device in order to perform certain ritual tasks amongst the general population of soldiers. One of those was wudu (ablutions). Jason W. Moy is an attorney working for the United States Army Judge Advocates General Corps. Born in San Francisco, California to non-Muslim parents, he converted to Islam while attending the University of Southern California on a Reserve Officer Training Corps Scholarship.

These Muslim men would feed one another with their own hands, ask each other about the state of their heart, and then lovingly argue over who was going to pay the bill, all while maintaining a level of dignity and honor I had rarely witnessed. What was interesting to me is that these men were all masculine. Many of them had survived wars, famine, occupation, and extreme poverty. These were no "punks." They had seen more hardship and struggle than most people claiming to live out popular American society's hyper-masculine ideal of a "Real G." They were often married (sometimes to multiple women), hard working, sincere, upright, strong, chivalrous and intelligent. Yet their conception of manhood seemed to include and even celebrate these strange elements of compassion, gentleness, sharing, concern, and loving kindness that I always associated with femininity. Baraka Blue is a spoken word artist residing in Oakland, California. He is acclaimed for his original synthesis of spoken word poetry with the tradition of Sufi poets such as Rumi and Hafiz. His second album is titled "Majunun's Lost Memoirs."

Instead of doing lame airport jokes, I started getting on stage and telling these stories of my upbringing. Tales like trying to explain to my mom, an endearing Indian immigrant who thinks the CD rom tray on computers are cup holders, what I was doing when she walked in on me while I was throwing money in the air and dancing to a rap video on BET. It was even harder to come up with an explanation when she found me gyrating with my pants sagged down, pretending to make it rain on the booty girls on the screen. It was goofy shenanigans like these that seemed to strike a chord with people much more than anything I had ever talked about on stage. Aman Ali is an award-winning storyteller and one of the few young American Muslim voices in the public spotlight today. He's made appearances on media outlets such as CNN, HBO, ABC News and NPR to talk about being a 20-something Muslim born and raised in America.

I realized some time ago that the sense of alienation admittedly plaguing many American Muslim youth today does not emerge from some pseudo-inherent evil within them or their faith--as fear-mongering pundits would have one believe--but often, rather, from a lack of connection to or rootedness in their country. While in college, I was told by other Muslims that a sense of Muslim community identity (ummah) could only be preserved if one puts aside one's national pride. But I never felt this to be an Islamic imperative. The frank truth is that the Muslims of China never gave up being Chinese--nor did the Muslims of India, Egypt, or Russia renounce their national identities. So why would American Muslims shy away from rooting themselves in the United States? Sami H. Elmansoury is a political activist, entrepreneur, orator, and community leader. While a student at Rutgers University, Elmansoury co-founded the Human Development Project. In 2005, he was the first recipient of the People of the Book Award.

If there was no God, my caustic monster could be driven into a corner, and then pummeled bloodied and helpless. My frustration, late night breakdowns, and everyday desolation would leave me be. And so I did it. I did what even the pagan Arabs around Muham¬mad, (peace be upon him), refused to do: I rejected God altogether. And on ceasing to be a Muslim, it occurred to me that perhaps this was not only a good thing, but also a reasonable thing. If with sudsy hands and slippery dishes I could just let God go, then it seemed--almost inevitably--that I'd never really believed in Him, anyway. Haroon Moghul is a doctoral candidate at Columbia University, a Fellow at the Institute for Social Policy and Understanding, and an Associate Editor at Religion Dispatches. His first novel was a forecast of the Arab Spring, titled The Order of Light (Penguin, 2006)

As a twelve-year-old, sitting in a room full of crying men, I felt my worldview oddly, yet naturally, shifting. My first year of being in this gathering would be as a novice observer. In the years that followed, I became an appreciative participant in this ritual, letting my inhibitions dissolve to engage in the story as if I were there to witness the tragedy and come to the sobering reality that my tears were acts of repentance for my personal inaction against injustice. I felt liberated by the vulnerability of the men around me, and even the boys at school could not shame away this experience. Justin Mashouf is a filmmaker and artist living in Los Angeles, California. Justin's most recent documentary Warring Factions follows him to Iran where he meets a group of young Iranian break dancers for an impromptu boy battle. Justin's work deals with the blurring of borders and his unique interactions with the Muslim world.

The choices I finally made were simple ones. I transitioned when I realized that my gender identity as a man was simply a truth--and there can be no deceit before Allah, one of whose attributes is al-Haqq, the Truth. I stopped covering to pray when I realized I was avoiding my daily prayers because I was dreading having to dress in "drag" as a woman. I knew, from the consistency of my prayers, that I'd made the right choice. My relationship with God is more important than what I wear. Tynan Power is founder of Pioneer Valley Progressive Muslims. He encourages full participation and inclusion of those often traditionally excluded from congregational life and leadership, including women and LGBTQ individuals.

But the Gulf War had another lasting impression on me. I recall one my friends wearing a shirt featuring Bart Simpson choking an Iraqi. During this period, friends began to make more jokes about Arabs, making me more conscious of my identity as an Arab-American. In 1993, during the Waco Siege, I remember Sr. Anne making a comment during class that Islam was a cult, similar to the Branch Davidians. I asked Sr. Anne, "Why is Islam a cult?" She responded, "Because often, many Muslims live together in one house." In shock, I had to explain to Sr. Anne what the definition of a cult was, in comparison to the religion of over one billion adherents. Sr. Anne apologized and stated that she would not make another comment about Islam before verifying with me first. My Arab-American and Islamic identities were being tested during the Gulf War, and this would not be the last time. Basim Elkarra is Executive Director of the Sacramento Chapter of the Council on American-Islamic Relations (CAIR). Elkarra was re-elected in 2011 to the California Democratic Party's Executive Board and chairs its Arab American Caucus and Affirmative Action Committee. Elkarra is currently a senior fellow with the American Leadership Forum.

My parents were religious, both in terms of practice and in terms of service to the community. I could not be like them if I were to be a good teenager, especially a good second-generation American teenager. There was also the unintended consequence of a good education in the American context: an arc to world civilization that holds that religious belief must fall by the wayside. I bought into the idea that a well-developed individual did not need religion. It was the opiate of the masses. I had a teenager's understanding of Marx and Nietzche, a dangerous and heady brew. Hussein Rashid is an academic, activist, and lecturer. Currently, he is a faculty member a Hofstra University and Associate Editor at Religion Dispatches, and a contributor to Talk Islam and AltMuslimah.

Now that my playing career is over, I am able to look back and see how, in my life, sports intertwined with Islam. One example of this is how football helped me keep my family bonds tight, in keeping with the teachings of Islam. The Prophet said, "The best of you are those who are best to their families." During most of my daring athletic achievements, I was away from my mother. She never saw me score four touchdowns in one football game, or score twentytwo points in a basketball game. She never witnessed me in the state semifinals, coming within a yard of making it to state in football, or being just a hair away from making the finals in the fifty-five meter dash at the Indoor State Championships. But in my senior year in college, my mother finally came to see me play. It was my last homegame at URI, a tough game that featured a bone-crushing hit leveled by one of our cornerbacks on an opposing player. I wondered what my mother would have thought if that had been me on the receiving end. We lost the game, but I ended up a winner because the true blessing of that day was that it brought my siblings, mother, and father--all of us, to one event. Ibrahim Abdul-Matin is a policy advisor to New York City Mayor Michael Bloomberg and is the author of Green Deen: What Islam Teaches About Protecting the Planet. Ibrahim is a regular contributor to WNYC's "The Takeaway."

I am proud to have played a small role in the historic election of Barack Obama as our nation's forty-fourth president. My campaign experience has changed the direction of my professional and personal life. Soon after the inauguration, I opened a boutique law office and now split my time between community organizing and practicing law. Personally, I still retain a bit of that fire that I shared with many staffers at headquarters--that we can, in fact, change the world. Obama's election proves this simple but empowering notion beyond any doubt. Mazen Asbahi serves as a policy advisor to the Muslim Public Affairs Council and on the boards of the Council of Islamic Organization of Greater Chicago and the Institute for Social Policy and Understanding. Mazen is co-founder of the National Muslim Democratic Council.

We are a nation that thrives on lumping people into distinct, clean, tidy categories that can easily be checked on a ballot box. Yet America and her people can never be confined within the suffocating entrapments of a single box, label, category, stereotype or caricature. We must take into consideration the nation's rich bouillabaisse of languages, religions and ethnicities that intersect and circumambulate one another endlessly, on a daily basis. It's this vibrancy, this piggybacking of cultures, this ever-evolving, messy, smorgasbord of various people and communities that continues to define and re-define the American mosaic. We're a bunch of Whirling Dervishes constantly in motion--with ecstasy, love, fear, panic, hope, and energy in no short supply. Wajahat Ali's essays and interviews frequently appear in the Washington Post, The Guardian, Salon, Slate, the WSJ Blog, the Huffington Post, CNN.com and CounterPunch. He is the associate editor of Altmuslim.com and contributing editor to the award winning Illume Magazine.