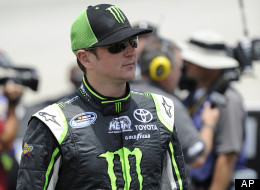 NASCAR driver Kurt Busch was upset with fellow driver Justin Allgaier after a close call on the race track at Dover International Speedway on Saturday. But it wasn't Allgaier who received the brunt of Busch's frustration.
It was Sporting News reporter Bob Pockrass.
Pockrass asked Busch after the contest whether his probation, which he earned for teckless driving during a Sprint Cup race at Darlington Raceway in the middle of May, made an impact on him during the Nationwide race.
"It refrains me from beating the s*** out of you right now because you ask me stupid questions," Busch replied. "But since I'm on probation, I suppose that's improper to say, as well."
According to SPEED, NASCAR is examining Busch's actions.
Pockrass opted not to respond to Busch but acknowledged his follower's support on Twitter.
@bobpockrass

Bob Pockrass
I'm not responding but I'm appreciative for all comments on KuBu. Y'all made me laugh & think. Your passion for
#NASCAR
is why I have a job.
Busch is no stranger to altercations with the media. After last year's season finale at Homestead,Fla., Busch lashed out at analyst Jerry Punch with a profane rant. He was fined fined $50,000.