Story comes courtesy of LA Weekly
David R. Chan can't use chopsticks. "I can't hold them properly," Chan said. "It hasn't really been a problem though. Chinese restaurants usually have forks available." 6,090 Chinese restaurants to be exact -- a number that just keeps on growing.
An accountant and attorney by trade, Chan has been keeping a spreadsheet of his culinary conquests since the early 1990s when he bought his first home computer. "When I entered the work force in the 1970s, that coincided with the rise of what we think of as authentic Chinese food in North America," Chan said. "As such, my goal was to try every authentic Chinese restaurant in the Los Angeles area at least once."
It's a goal that he has consistently kept up with. He keeps a stack of several thousand business cards, menus and credit card receipts. His spreadsheets are organized by name, street and year visited. He has personally witnessed the introduction and spread of Chinese restaurants in Los Angeles from the beginning. The earliest restaurant visit recorded on his spreadsheet? 1951.
Squid Ink caught up with Chan over a bowl of Guilin noodles during lunch hour. He doesn't speak Chinese -- but can tell you the history and background of almost every Chinese restaurant in Los Angeles. Chan has been to so many Chinese restaurants in Los Angeles he can list right off the bat the restaurants he hasn't been to. "The only places I know I've missed are Little Sheep San Gabriel and Factory Tea Bar," he said. "I haven't gone to [them] due to low interest."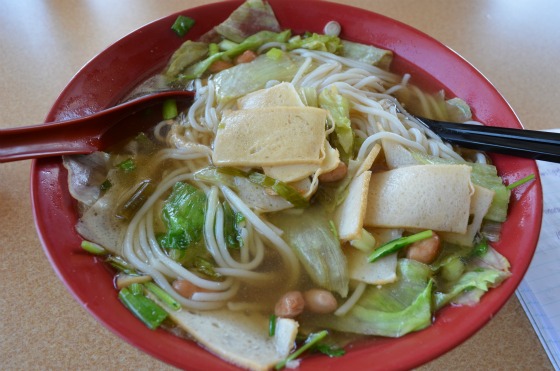 Photo by Clarissa Wei
"You need to tell me the street," he'll say whenever a obscure Chinese restaurant name is brought up. And you can almost see the wheels turning in his head as he mentally plots out the streets and figures out where the restaurant is. When he can't, he'll refer you to his spreadsheets. The restaurant is always on his spreadsheet.
His list isn't only limited to Los Angeles either. He's made considerable ground in New York, San Francisco and Canada. Currently on his radar -- Springfield, Missouri. "I want to try the Springfield, Missouri cashew chicken," he said. "It's a dish there that has crossed over from Chinese restaurants to American restaurants. It's breaded chicken mixed with cashews." In fact, he's been to most of the major cities in the states except for Charlotte, Pittsburgh, and Kansas City. "I keep a four to five page list on restaurants I want to visit when I get to a city," he said. And when he does make it to a city, he'll squeeze in five to ten restaurants in one visit. "I went to six dim sum places one morning in Toronto," he said.
In addition to documenting his restaurant visits, Chan is just as adamant about keeping track of restaurant openings and closings. "In the old days, there weren't that many Chinese restaurants. When one opened, everyone heard about it and rushed out to try it," he said, "Consequently, it's just a matter of keeping with what opens up on a current basis, which I've been able to do so far."
How he does it: Chowhound, the Chinese Yellow Pages and constantly driving around the area. According to his observations, there are currently around 600 Chinese restaurants in the San Gabriel Valley. He estimates that 200 of them are on Valley Blvd.
Yet for someone with such a vast and comprehensive knowledge of Chinese-American cuisine, Chan is remarkably humble. "There's plenty of people like me running around. They just don't post on Chowhound," he said. Chowhound has been a way for Chan to keep up with the community and exchange restaurant tidbits with fellow SGV food fans. He has been operating under the handle "Chandavkl" since at least 2000 and prolifically posts up news of Chinese restaurant openings. "Sometimes I try to lighten up my posts and write about a restaurant that has gone undetected for months," he said.
There are many ironies. He doesn't use chopsticks and doesn't speak Chinese. He has only been to Asia a total of five times. He's a third-generation American (his paternal Toishanese grandfather immigrated to the United States in 1900). He's been on a low-carb and low-sugar diet. And he's never once lived in the San Gabriel Valley.
Yet Chan's memory and passion for Chinese food and culture in America is unmatched. He visits the San Gabriel Valley roughly twice a week and avoids eating at the same restaurants over again. It's a hobby he's been at for more than four decades. "My last quarter at UCLA (in 1969), they offered the first Asian American ethnic studies class ever. To show you how long ago that was, the course was called 'Orientals in America' and it triggered a consciousness in me which continues to this date," he said. He's an amateur historian who was at the forefront of the Asian-American movement in the United States. Chan doesn't just eat at restaurants. He internalizes their history and significance.
"The opening of ABC Seafood Restaurant in 1984 was the launching of an era of Chinese food in the area," he said. ABC was the first authentic Chinese restaurant in Los Angeles.
Another main watershed event, which preceded ABC, was the opening of the Chinese shopping center on Atlantic in late 1980, where NBC Seafood is currently located. "The shopping center's importance was the solidification of the Chinese community in Monterey Park, and not just a matter of the development of Chinese restaurants and cuisine," Chan said. "It is significant in restaurant terms since I guess it was probably the first multi-Chinese restaurant center in the SGV, so it probably comes next in time and importance to the opening of Chinatown's Food Center in 1979."
Next came Focus Plaza in 1991, which was anchored by the opening of the 99 Ranch Market. "The opening of Focus Plaza turned the area into a mecca," Chan said. The most recent watershed moment: Sea Harbour in 2001, which brought the Los Angeles Chinese dining scene into the ranks of Vancouver -- a city Chan had always considered superior to the rest of North America in terms of Chinese food.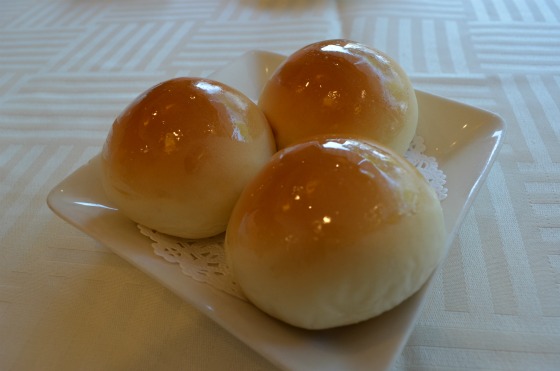 Photo by Clarissa Wei
"Between visits I used to dream of going to Vancover for their food," Chan said. "But last summer we went to Vancouver, and the food is only incrementally better than Los Angeles."
Chan's broad spectrum of Chinese restaurants allows him to pinpoint and theorize trends in the American-Chinese dining scene. Most notable is his observation of the movement of Chinese restaurants further east of Los Angeles.
"If you sort the Excel schedule by year you can see the the progression of Chinese food in Los Angeles, first centered in Chinatown, then openings in Monterey Park, Alhambra and Montebello, then further spreading to other communities like San Gabriel, Rosemead and later Rowland Heights and Hacienda Heights," he said.
Chan can pull out dates, restaurant and plaza openings off the top of his head. He'll reference newspaper articles, and if he doesn't feel like his words are sufficient enough, he'll forward you the evidence.
As for restaurants in Los Angeles, Chan admits it's difficult to pick a favorite. "I don't have a favorite because I'm always looking for a new restaurant," he said. But he does have a top three list: Seafood Village, Qingdao Bread Food and Xi Guan Noodle. "Qingdao and Xi Guan because they're good and cheap," he said.
Chan is impressively thorough. If he doesn't remember something off the bat, he'll go through his archives and provide you with the information afterwards. After our lunch meeting Chan sent over an email on Xi Guan, which he officially dubbed the most underrated restaurant in the San Gabriel Valley.
"Additional comment on Xi Guan Noodle House would be 'dirt cheap.' Full size orders start at a little under $4. Their specialty is noodles, and they have a real assembly line where a cook's helper puts the raw material in the styrofoam container (e.g., chow mein, chow fun) and then the cook takes it and cooks it up. But my favorite there is the fish in corn sauce -- as good as it comes in the SGV and only $7, tax included. Of course like every Chinese restaurant in the SGV, if you mention it you should probably check to see if it's still there. I haven't been there in about a month," he wrote.
Like most of his Chowhound entries, he concluded the post with an address: "8150 E. Garvey Ave., #117H in Rosemead." For the record, they're still open.
Follow LA Weekly on Twitter, Facebook, and read more from their news blog The Informer.
Earlier on HuffPost:
PHOTOS: The new summer spots
Loading Slideshow
U-Mini

Genre: Burgers While <a href="http://www.zagat.com/search?text=umami+burger&where%5Bname%5D=Los+Angeles+&where%5Bid%5D=&where%5Blat%5D=34.0522&where%5Blon%5D=-118.242797&where%5Blocale%5D=Los+Angeles&where%5Bradius%5D=45" target="_hplink">Umami Burger</a> is set to debut a 3,000-sq.-ft. flagship location before the summer in The Grove, the company also has plans in the next few months to launch a new quick-service burger concept called <strong>U-Mini</strong> (1131 Westwood Blvd.). U-Mini will eschew servers in favor of online and app ordering.

Burger Lounge

Genre: Burgers In nearby Beverly Hills, another fast-casual concept called <strong>Burger Lounge</strong> (281 S. Beverly, Beverly Hills) is expected to open mid-June, the second location for the San Diego-based chain. The menu features burger choices such as grass-fed beef and quinoa veggie.

Blue Plate Taco

Genre: Mexican From the creators of <a href="https://maps.google.com/maps?q=blue+plate+santa+monica&hl=en&ll=34.033155,-118.494844&spn=0.010083,0.029011&fb=1&gl=us&hq=blue+plate&hnear=0x80c2a4cec2910019:0xb4170ab5ff23f5ab,Santa+Monica,+CA&cid=0,0,9036142201349391870&t=m&z=16" target="_hplink">Blue Plate</a> and <a href="http://www.zagat.com/r/bp-oysterette-santa-monica" target="_hplink">BP Oysterette</a>, <strong>Blue Plate Taco</strong> (1515 Ocean Ave., Santa Monica), opening July 4 at the <a href="https://maps.google.com/maps?q=shore+hotel+la&hl=en&ll=34.014446,-118.49581&spn=0.010085,0.029011&fb=1&gl=us&hq=shore+hotel+la&cid=0,0,16622255220822792094&t=m&z=16&iwloc=A" target="_hplink">Shore Hotel</a>, will feature fusion-y south-of-the-border fare including a signature lobster truffle taco. Forty of the restaurant's 70 seats will be outdoors with unobscured ocean views. Chef Josef Centeno (from <a href="http://www.zagat.com/r/baco-mercat-los-angeles" target="_hplink">Baco Mercat</a>) plans to bring Tex-Mex downtown with <strong>Bar Amá</strong> (118 W. Fourth St.). He'll draw on his San Antonio roots, cooking family recipes in a wood-burning oven and slaking thirsts with tequila, mezcal and Mexican beer. An opening date has not yet been set, but keep an eye on it this season. And on the quick-service tip, a second location of Ocho Mexican Grill (255 S. Grand) should be open by June.

Chaya Downtown

Genre: Summer Drinking Spots <strong><a href="https://maps.google.com/maps/place?hl=en&ie=UTF-8&q=chaya+downtown&fb=1&gl=us&hq=chaya+downtown&cid=15947135468413683588&ei=3NC7T8rxKcWBgAe269STBg&oi=local_result&ved=0CIIBEK8LMAE" target="_hplink">Chaya Downtown</a></strong> (525 S. Flower St.) hosts an outdoor Japanese beer garden with izakaya-style bites from June 5-August 31. Premium Japanese whiskeys and sake flights will also be offered alongside the <em>biiru</em>.

The Parish

Genre: Summer Drinking Spots Also expected to open downtown in early June is <strong>The Parish</strong> (840 S. Spring St.), where chef Casey Lane will offer his take on English pub food (think pork head pot pie, fried chicken and burgers), and bar manager John Coltharp plans an extensive selection of sippable spirits, local craft brews on tap and unusual beer-based cocktails.

Towne Food & Drink

Genre: Summer Drinking Spots The 7,800-sq.-ft. <strong>Towne Food & Drink</strong> (705 W. Ninth St.), featuring handcrafted cocktails by Jason Brand and an appropriately spacious outdoor patio, should be open by the end of the month in the ground floor of the WaterMarke Tower high-rise apartments.

FigOly

Genre: Feast on Figueroa This downtown L.A. street is suddenly the center of some new summer culinary action. Top Chef season-seven alum Alex Reznik will be executive chef at <strong>FigOly</strong> (1020 S. Figueroa), named for its location in the Luxe City Center Hotel on the corners of Figueroa and Olympic. Reznik is going for Cal-Ital fare with a distinctly Angeleno twist. Expect a late-June debut.

Soleto Trattoria & Pizza Bar

Genre: Feast on Figueroa <strong><a href="http://www.soletorestaurant.com/" target="_hplink">Soleto Trattoria & Pizza Bar</a></strong> (801 S. Figueroa) is scheduled to sling wood-fired pies by early July in a massive 3,500-sq.-ft. space that includes a 30-seat bar. This is the first downtown foray from the seasoned restaurant group responsible for such popular spots such as Sushi Roku and Boa.

My Vienna Coffee & Gelato

Genre: Sweet Beat <strong>My Vienna Coffee & Gelato</strong> (9461 S. Santa Monica, Beverly Hills) is scheduled to begin serving up elaborate gelato sundaes to 90210 ladies on June 3. A little bit farther west, Danish cravings will be met with the opening of Copenhagen Pastry (11113 Washington, Culver City) in June.

Dylan's Candy Bar

Genre: Sweet Beat Dylan Lauren (daughter of designer Ralph) will open the first West Coast location of her dreamy sweet shop <strong>Dylan's Candy Bar</strong> (6333 W. Third St., Los Angeles) inside <a href="https://maps.google.com/maps?q=The+Grove+la&hl=en&ll=34.072231,-118.357151&spn=0.010078,0.029011&fb=1&gl=us&hq=The+Grove+la&cid=0,0,14091885898300447598&t=m&z=16&iwloc=A" target="_hplink">The Grove</a>. Signs at the construction site indicate a fall debut, but a Farmers Market spokesperson told <a href="http://la.eater.com/archives/2012/04/18/dylans_candy_bar_posts_signage_at_the_farmers_market.php" target="_hplink">Eater LA</a> that the doors might fling open in the summer.

Charm City Cakes

<em>Ace of Cakes</em> star Duff Goldman is busy setting up a new location of his Baltimore-based <strong>Charm City Cakes</strong> right in West Hollywood (8304 Melrose). Reports conflict on whether the bakery will have retail sales or will be wholesale only, but sugar fiends should start seeing more ridiculously theatrical cake works on tables at special events soon.

Café Gratitude

Genre: Beachside Eats The Bay Area's embattled vegetarian chain <strong><a href="http://www.cafegratitude.com/" target="_hplink">Café Gratitude</a></strong> is shuttering its San Francisco location this month, but looks forward to opening a new one, ( in addition to the current Larchmont location), in Venice (512 Rose, Venice); it's a good neighborhood to help more Southern Californians used to the idea of ordering all their food using affirmations ("I Am Radiant," "I Am Fulfilled," etc.)

Superba Snack Bar

Genre: Beachside Eats But if that sounds too holier than thou, you'll soon be able to stroll down the block for vino-friendly bites from <strong>Superba Snack Bar</strong> (533 Rose, Venice), a collaboration between <a href="https://maps.google.com/maps/place?q=pitfire+pizza&hl=en&cid=11826074821788415096" target="_hplink">Pitfire Pizza </a>owner Paul Hibler and chef Jason Neroni.

Mendocino Farms

Genre: Expansions The third location of acclaimed, quirky sandwich market <strong>Mendocino Farms</strong> (175 S. Fairfax, Los Angeles) is set to start business on May 31.

Seasons 52

Genre: Expansions Florida-based, healthy fast-casual chain <strong><a href="http://www.seasons52.com/" target="_hplink">Seasons 52</a></strong> is staking California claims in the Southland, with outposts expected in Santa Monica's Palisades Promenade (120 Broadway, Santa Monica) and the Century City Mall (12050 Santa Monica).

Stout

Genre: Expansions <strong><a href="https://maps.google.com/maps?q=Stout+LA&hl=en&ll=34.099972,-118.329384&spn=0.010075,0.029011&fb=1&gl=us&hq=Stout+LA&cid=0,0,5912628073548330831&t=m&z=16" target="_hplink">Stout</a></strong> is set to open new gastropubs for burger and beer adventures. First up is a new location in Studio City (11262 Ventura, Studio City), to be followed by Santa Monica (111 Santa Monica Blvd., Santa Monica).