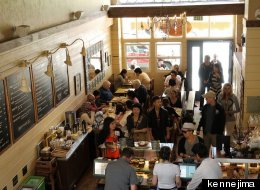 Gasps broke out across San Francisco as beloved local coffeeshop, cafe and bakery La Boulange Cafe & Bakery announced that it had been purchased.
By Starbucks. For $100 million.
Both parties lauded the deal in a statement on Monday morning. Next World Group, La Boulange's primary investor, announced that the acquisition should be complete by the end of the 2012 third quarter.
(SCROLL DOWN FOR PHOTOS)
"La Boulange and Starbucks share similar values and a common vision for creating premium products in a socially responsible way," said Next World Group founder Sebastien Lepinard in a release about the sale. "We have confidence that Starbucks will stay true to the La Boulange brand while bringing the romance of an authentic French bakery to consumers across the United States."
So what does this mean to the upscale boulangerie? According to the San Francisco Chronicle, La Boulange will open six more locations by year's end, and by 2013, Starbucks will feature La Boulange baked goods in all 17,000 of its locations. (Sacré bleu!)
As brunching San Franciscans collectively spit out their café au laits, La Boulange founder and CEO Pascal Rigo rushed to calm customers.
"We actually are trying to be 'too big,'" he explained to the San Francisco Business Times. "People want us, and we are going to try to give it to them. I say there are good chains and there are bad chains. We are going to be a good chain." (We know, La Boulange--you're not like a regular mom, you're a cool mom.)
In fairness, La Boulange already has a whopping 19 locations, and the move will likely turn out to be a brilliant one. And it warms our hearts that the entire country may now have access to lavender macaroons.
But we can't help but worry that every time Starbucks buys a local business, there's a fairy somewhere that falls down dead.
Here are a few other sublimely San Francisco chains that we hope aren't eyeing the dark side:
San Francisco's favorite sandwich shop, Ike's Place, is spreading like Dirty Sauce. We're all for the expansion--as long as we can still find Ike and Chase behind the counter.

Don't do it, Blue Bottle. Just...don't.

The day Domino's released the Artisan line was the day we started worrying about the Orgasmica menage a trois.

A hub for the Beat movement and rumored to be the first espresso house on the West Coast, we know we don't have to worry about Caffe Trieste. Right?...

The Park Cafes (Dolores, Duboce, Precita) are as popular as ever. Is Central Park Cafe next?

If we see Kara's Cupcakes in the Starbucks case sometime soon...