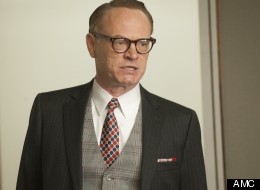 NOTE: Do not read on if you haven't seen "Commissions and Fees" from Season 5 of "Mad Men."
After Don demanded his resignation for forging checks and embezzling funds fron Sterling Cooper Draper Pryce (Harris) and his wife bought him a Jaguar (paid for with a check), Lane Pryce decided he couldn't bear his life any longer. He first attempted to snuff himself out with exhaust from the new Jag, but that car's engine predictably didn't work. After that darkly comic bit, he hanged himself in his office.
It was Joan who discovered that something had gone terribly wrong in Lane's office. Eventually, and at Don's insistence, Pete, Roger and Don cut him down and laid him on the couch.
Lane is the second victim (a loose term here) of Don's emotional insensitivity. Adam Whitman, Don's long lost brother who was brushed aside by our Mr. Draper, also hanged himself.
As expected, the dark developments had fans racing to the internet to blog and tweet their reaction to the events. What do you make of last night's episode? Vote in the poll below and let us know in the comments. For our entire recap on the episode, head over Maureen Ryan's post on the episode.
Mad Men vs. Game of Thrones
Old lions still in the game. Don't underestimate them.

Intelligent, resourceful children subjected to terrible trials. Home life not ideal.

Red-headed women disappointed by ambitious, abusive men.

Smart, thoughtful people working hard in an unforgiving, discriminatory environment. These two are among TV's most layered, complex characters (and is it just me or do they even look like they could be related?).

Resentful aristocrats with serious family baggage and a constant need to assert their manhood. They can be impetuous, spoiled brats, but we often pity them as well.

Bitter, wealthy, blonde mothers of three with serious narcissism issues.

Strangers in a strange land in search of new destinies. Quite the scrappers.

Relatively normal people just doing a job and getting paid.

Determined young women from north of the border.

Well-intentioned, sometimes awkward young men with unusual roots. I can't imagine not rooting for them as they try to find their place in the world.

Gruff, but more or less decent guys. Not exactly enlightened, but you'd want them to have your back in a crisis.

Well-to-do but often classless operators. A little douchey at times, honestly. Nice threads, though.

Characters who just make me happy. And if it came down to a fight, they would absolutely win, one way or another.

Gay guys I want to hang with again. Soon.

Calculating, well-established power players who are frequently amusing and always up for some office politics. Invite them to your cocktail parties, but don't necessarily trust them.

Jackasses I want to see beheaded. Really soon.