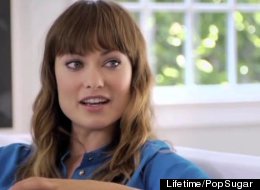 Olivia Wilde recently opened up about end of her 8-year marriage to Italian prince Tao Ruspoli.
The 28-year-old old actress, who filed for divorce in March 2011, told Amanda de Cadenet that separating was "the scariest thing I've ever done."
"You don't want to break up with someone, you dont want to end a marriage, especially if you really like the person -- you just know that something's off so you try to change everything else," she said on "The Conversation" last Thursday. "We basically built a new house and it was perfect -- just a glorious house -- and the day it was finished was the day I knew it wasn't the house."
Wilde, who tied the knot with Ruspoli on a bus in 2003 (when she was just 18), is currently dating SNL star Jason Sudeikis.
It's not the first time the actress has dished on her divorce. In March 2012, she told Town & Country magazine that divorce made her feel like "such a failure" and admitted to turning to food after the split.
Click through the slideshow below for what other stars have said about their splits:
Which Is The Craziest Celebrity Breakup Quote?
In November 2011, Robin Williams spoke to The Guardian about his decision to walk down the aisle a third time -- and offered this quip about his two failed marriages: "Ah yes, divorce, from the Latin word meaning to rip out a man's genitals through his wallet."

In November 2002, during an interview with Diane Sawyer where she confirmed her engagement to Ben Affleck, Jennifer Lopez said this about her two previous marriages: "I've been married twice but I haven't had a marriage yet."

In an episode of "The Conversation With Amanda De Cadenet" that aired in May 2012, never-married pop star Lada Gaga offered her thoughts on divorce: "My grandmother... was married to my grandfather for 60 years. My parents are still together, 30 years. Divorce is not an option for me," she said, adding, "It's like, I'm gonna get married and that's it. He's stuck with me."

After breaking up with long-time girlfriend Cameron Diaz in January 2007, Justin Timberlake told The Guardian that he blamed his inability to commit on his masculinity: "As much as I've learned, I am still a man so I have some kind of learning disability. And women wouldn't have us any other way."

After splitting from Meg Ryan, his wife of 13 years, Dennis Quaid told told W magazine, "When you break up, your whole identity is shattered. That's why it's like death. It is a death."

After filing for divorce from Kris Humphries in October 2011 -- 72 days after she tied the knot -- Kim Kardashian took to her personal blog and offered fans this explanation for her marriage's demise: "It just didn't turn out to be the fairytale I had so badly hoped for."

At the height of the OJ Simpson murder trial in 1994, twice-divorced director Oliver Stone reportedly told The New Yorker, "Anybody who's been through a divorce will tell you that at one point they've thought murder. The line between thinking murder and doing murder isn't that major."

In a September 2011 interview with Ellen DeGeneres, LeAnn Rimes summed up the experience of leaving husband Dean Sheremet for her married co-star -- and future husband -- Eddie Cibrian: "I went through a divorce and an affair, which was really fun... then I went through getting married, which was even more awesome."

In an interview October 2009 interview with Rolling Stone, Madonna said that divorcing Guy Ritchie after eight years of marriage was "challenging," adding, "I'm very grateful that I had work to do. I may have thrown myself off a building."

In a November 2004 interview with Esquire, twice-divorced Angelina Jolie offered a a peak into her romantic life: "I have mainly two very close lovers. Wonderful men. I've been married so much in my life, I never really had lovers. So it's been a kind of fun time. Hopefully the men are enjoying it as well."

In an interview with RadarOnline in March 2011, Charlie Sheen had this explanation for why his marriage to Brooke Mueller was over: "I've been looking at it too long, that's why I divorced the b*tch." (He didn't specify what "it" is).

After news emerged in 2000 that Tom Cruise and Nicole Kidman were ending their nearly decade-long marriage, a cryptic Cruise offered this explanation to the press: "Nicole knows why."

Mike Tyson and Robin Givens divorced in 1988, after just one year of marriage. In an interview with the Daily Telegraph that ran soon after, the boxer offered this explanation: "You can't stay married in a situation where you are afraid to go to sleep in case your wife might cut your throat."