Can breast enhancement surgery give you a better orgasm?
Maybe. According to a poll by RealSelf.com, women who had chosen to receive breast implants or breast lifts claimed a 34% increase in overall satisfaction with their sex lives, on average. They also claimed to have more sex post-procedure.
The survey, conducted on RealSelf.com, found that 61% of women reported they had sex more frequently after their breast plastic surgery, while only 7% claimed to have fewer sexual encounters. 70% of respondents said their overall sex life satisfaction improved after the procedure; 28% of patients go even further, claiming their satisfaction levels went up "four points or more" based on the one to ten scale.
It may be impossible to prove that the surgeries themselves were responsible for women's increased sexual pleasure, but we suspect the confidence boost patients receive has much to do with it.
Plastic surgeries have made a fresh round of headlines lately. While breast implants may lead to more pleasurable repercussions for adults, a number of teens are opting for another procedure with the goal of looking good for prom: chin implants are reportedly on the rise among high-schoolers.
The total number of cosmetic procedures performed in the United States by plastic surgeons has nearly doubled since 2000, with plastic surgeons performing almost 14 million procedures in 2011. It's not all good news on the breast implant front, however; 8,000 French women recently had their implants removed after ruptures in their brand of insert were found to cause health problems.
Check out the infographic below, and click over to RealSelf.com to read more finding from the study.
Scroll down for more photos.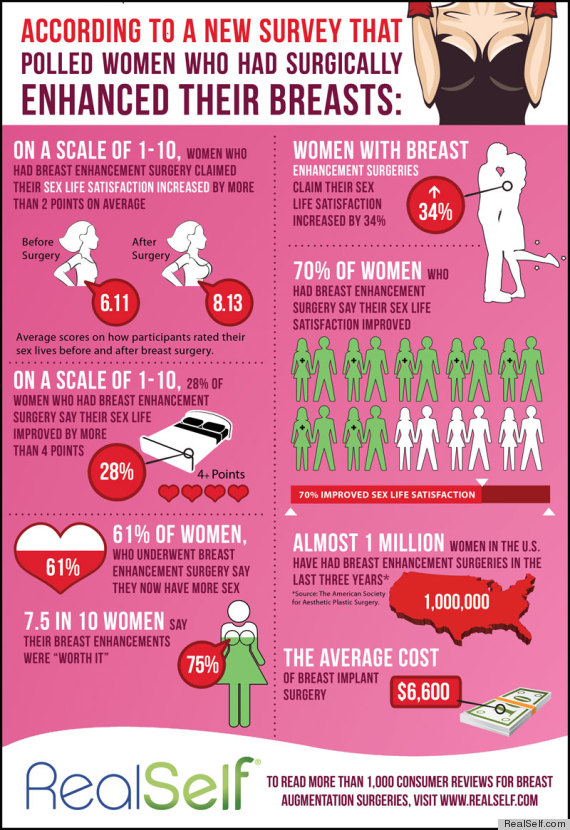 Celebrities talk about regretting their plastic surgeries:
Plastic Surgery Regrets (CLONED)
"I wish I'd never had my breasts done the last time," she told New Magazine. "They've put these bloody great bags in that are too f***ing round--it's like a water bed on your chest."

"When I was 19, a doctor put in bigger implants than what I asked for. I was in such a hurry to get them that I didn't research my doctor," Richards told Us Weekly. "I just thought because they're a plastic surgeon, they must be good. You have to be your advocate for your own body and ask 100 questions." Later Richards wrote: "At 19 when I first got my breasts done, I wish that I was confident enough with my body to not have had surgery. That is something that I really want to encourage in my daughters, to embrace their healthy body and have confidence. I actually feel more confident in my skin now than in my 20's. Being confident is one of the sexiest qualities a woman can exude."

"Me and my friends found a doctor in Arizona that cost about $1,500 to get our boobs done--because they didn't use anesthesia and I didn't know it," McCarthy told WENN. In a later interview with Us Weekly, the former playmate said she was "too young" when she got her implants at 19.

In an interview with British Vogue, Victoria was asked about the absence of her "torpedo bazookas", to which the former Spice Girl reportedly replied, "gone".

In an interview with Now Magazine, Kimberly states her famous father was supportive of his daughter when she had the implants put in at 18, and even more supportive when she decided to get rid of them. She recalls, "He's very supportive of whatever I do. He was just like, 'If you don't feel comfortable, if you don't feel safe, just get them removed.'"

When she was 22, she got surgery to go from a B-cup to a C-cup. "It was so dumb... I just got the idea in my head one day, and that was that. There was no talking me out of it," said Kardashian in an interview with Us Weekly.

Last year, Staub had another surgery to correct a botched boob job she got done when she was younger. "She was very upset with her breasts," her doctor, Michael Fiorillo told, Us Weekly. "Scar tissue formed around the breast implant and that makes the implants hard, cold and deformed...the right one was almost up by her neck!"

Kim got her breast implants at age 20. Looking at pictures of herself on vacation in Miami last year, Zolciak couldn't believe what she saw. "My boobs looked crazy and saggy," she revealed to In Touch.

The Hills star -- now a size "E or F" depending on the bra had a staggering 10 procedures done in one day. "I'm obsessed with fitness but it's impossible to work out with these boobs," Montag told Life and Style Magazine. "It's heartbreaking. I can't live an everyday life."

"When I had implants, I felt uncomfortable," the former porn star told Us Weekly. "I would be shy at the beach. I know it sounds funny, but I'd wear high-necked clothes, unless I was at an adult-film convention. So I thought, 'why don't I be who I am and get my real ones back?'"

"I was a 34B, but the right one was always bigger than the left," she told Us Weekly. "He gave me Cs, and I didn't want them. At all."

"Well, I got my boobs done in my early 20s," Spelling told Good Morning America. "If I had known that it would or could possibly impact production of milk, I wouldn't have had them. I love being a mom. I am on my third baby. We want to have more. That's my role... these don't matter."
Want more? Be sure to check out HuffPost Style on Twitter, Facebook, Tumblr and Pinterest.