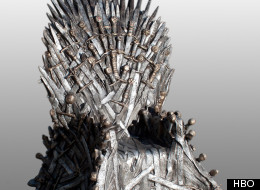 It turns out that winning the Iron Throne -- the seat of kings in the Seven Kingdoms -- is easier than "Game of Thrones" fans previously thought.
Instead of enduring bloodshed and battle like the characters on HBO's hit drama do, fans can buy a life-sized replica of the Iron Throne from HBO ... if they have a spare $30,000. The replicas stand more than seven feet tall, close to 6 feet in depth, 5.5 feet in width, weigh 350 pounds and are being made based on orders.
Shipping adds another $1,800 and creating one's own Throne Room is not included in the price.
Or ... if you do have a $30,000 to spend, here are some other items you could buy:
At $69 a piece, you can buy 434 poäng chairs from Ikea to fill your living room for the price of one Iron Throne.

30,300 packs of Orbit gum if you buy it in 12-packs.

Who wants one set of A Song of Ice and Fire (books 1-4) when you can buy 1,463 sets for $30,000? You can even read them while sitting on your life-sized replica of the Iron Thone.

A New York state resident can be an undergraduate at Hunter College for 5+ years.

Would you be willing to spend $30,000 to eat like Tyrion? Buy 857 friends a copy of the "Game of Thrones" cookbook.

A "Game of Thrones" Iron Throne paperweight might fit in your home a little better, but how about 500 of them for the same price as the seven-foot tall replica?

858 sets of season one of "Game of Thrones" on DVD! That's 481,338 minutes of TV.

Starting at $199, you could buy 150 "iPhone 4S"s.
Tell us: What would you buy for $30,000?