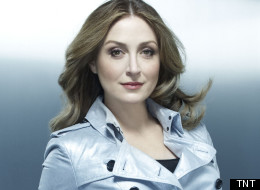 "Rizzoli & Isles" is back for Season 3 (premieres Tues., June 5, 9 p.m. ET on TNT), and after last season's cliffhanger finale -- with Jane (Angie Harmon) shooting Maura's (Sasha Alexander) mobster birth father, Paddy Doyle (John Doman) -- let's just say things are a little tense between the leading ladies when we pick back up.
I caught up with star Sasha Alexander to hear more about how the best friends begin to repair their relationship, and she also dished about some new guest stars, including Sharon Lawrence, who'll be playing Maura's birth mother, and Eddie Cibrian, who's Maura's new love interest. Alexander also talked about her character's darker side, the show's efforts to keep the strong female characters from becoming sex objects and whether or not she would do a musical episode.
Our conversation took place on the phone during a quick break from a particularly insane day of shooting -- there was a big party scene, and things sounded like they were getting a bit out of hand.
"It's actually a very funny episode where Maura is hosting the medical examiner symposium, so all of these very nerdy doctor types come ... so it's basically all these funny guys with Maura," Alexander teased of the upcoming episode. "Let's just say a lot of different chaos ensues with Dr. Pike, played by Ed Begley Jr., which is hysterical. He's so hysterical -- he has some very funny storylines this season."
She also gave us more of a glimpse into Begley's on-set/on-screen antics: "And then Ed Begley tried to stick his tongue in my ear, but hey! No, it wasn't him, it was his 'character.' [Laughs.] Just another day at work!"
Keep reading for more on what makes "Rizzoli & Isles" tick ...
Rough start for the ladies this season -- it's obviously not an easy situation for them to deal with, since Jane shot Maura's mobster father. What can you tell us about the state of their relationship when we return?
I think it's a pretty raw moment for both of them right when we return because it just happened, so there's a lot of confusion and a lot of raw emotion for both of them. And that gets even more complicated -- for Maura, she's now got her father in the hospital and her mother, and she's dealing with the fact that Jane just shot her father. For Jane, she ends up in a bit of hot water because they're doing an investigation on this, and because she knew that Maura's father was Paddy Doyle, she's sort of implicated in it as a possible suspect.
But the show is called "Rizzoli & Isles" -- these two can't stay mad at each other for too long, can they?
No, but I love it because I think that when you see the second episode and when they do come back together, they've really earned it in a way that I think is just going to deepen their relationship. I like it -- I think conflict is good. I've loved this storyline with Paddy Doyle ... I think it's really an interesting mystery that has been sort of unraveling about Maura's life, and it's provided us with some really cool stories. So it's interesting how it's now come around to it being Jane that stops him. I think it's really paid off in an interesting way.
And now we'll also get to meet Maura's biological mom as well -- I cannot wait to see Sharon Lawrence on the show.
I know! I haven't seen the episodes, but she was really great to work with. The first time she arrives, Jane and Maura and Angela are there and this woman appears, and the way she speaks is so Maura-like -- she has this hilarious monologue talking about birchwood, which is so random. They don't know that this is her, but just by the way she speaks and her mannerisms, they're like, "There's no way this woman is not related to Maura." It's a really wonderful moment, and Sharon and I had kind of an uncanny resemblance.
To actually finally meet her biological mom face-to-face ... I can't imagine that'd be easy for Maura or for her mom who raised her.
No and, you know what? She's not actually sure that she's going to tell her mom. So she has the curiosity to meet her, but she's not necessarily sure that she's going to tell her ... she has moments around her that she just bursts into tears because of the emotion of it. It's very comedic, and Jane's like covering for her.
I love that Maura can be so ridiculous, then so serious. Do you like playing one side more than the other?
I like the balance. I love comedy so I'm always partial to moving towards humor in any way possible -- it lightens things up. I happen to be a TV watcher who likes things that stay a little lighter. I feel like the world is so dark, and we explore so many darker subject matters and crimes on the show, that to have that humanity is kind of the fun tonal balance of our show. Sometimes I feel like we're doing Lucy and Ethel, then I turn around and we're in kind of a gritty cop drama, standing over a dead body.
I think Maura's new love interest will help lighten things up a bit this season as well, right? Eddie Cibrian ... not bad.
I know, right? I don't know though. I don't know what's going to happen to him, if he's a good guy or a bad guy -- they haven't told me yet, so we're going to have to find out. But when she meets him, she does meet him in a very unusual way, which I will just say: She meets him on her autopsy table. [Laughs.] So ... their first date is not the most common.
Fans seem to really want you all to do a musical episode, a la "Grey's Anatomy" or "Buffy." Would you consider it?
Oh my gosh, I would so love to! I was a dancer, Angie's a great dancer ... there's no reason that the two of us shouldn't be dancing away. I'd love it. I don't have a really good voice, though -- Angie does. So I could back-up dance, somebody from "Glee" could maybe sing for me, and I'll be doing the Roger Rabbit.
[Laughs.] It's the same as having a butt double -- you'll have a singing voice double.
And you know what? I'm totally good with a butt double. That and boob doubles are fantastic. [Laughs.]
But you don't really need that on this show, which is interesting. Being on TNT, you can go risque, you can show skin -- I mean, how many times have we seen Mark-Paul Gosselaar's butt on "Franklin & Bash"?
He does like to show it! But by the way, it's very nice -- if you've got it, go for it. But it's different for women, of course.
It is, and that's kind of the point -- I can't imagine you all would ever go that far on this show. Can you?
Well, here's the thing with television: They will show a man's butt, but when it comes to women, they'll shoot it but they'll never show it. They'll just keep those dailies at home ... [Laughs.] Who knows what happens then! Honestly, one of the things I love about our show is the portrayal of women who are strong and modern. We can be intellectual, we can be silly, we can be girly -- it has all the colors of portraying women the way we really are. So we don't go there at all. The farthest we go is some yoga clothes. Sometimes I get reprimanded because my dress might be a little cleavage revealing at a crime scene. [Laughs.] I'm like, "But it's Alexander McQueen! You can't put layering underneath it!"
What's your favorite part about playing Maura?
One of the fun things about playing her is the opposites of who she is -- uber-feminine and fashion-y, but such a brainy intellectual. But my favorite part about playing her is she's not really concerned with being liked. She exists in the world in sort of her own space, her own bubble, and that's very liberating. Most human beings care about what other people think of them, and she doesn't. She's really an odd duck. I admire that.
I think that this season, we sort of move into toughening her up a little bit, in terms of not being so apologetic for who she is. Jane's tough, so Maura will be polite, but I think that this experience with her father and her family has shaken her up a bit where you'll get to see that she has a dark side as well. She can get feisty and she can fight.
"Rizzoli & Isles" Season 3 premieres Tues., June 5, 9 p.m. ET on TNT.
What to watch this week:
(8 p.m. ET on Fox) season premiere In Part One of the two-night Season 10 premiere, 18 aspiring restaurateurs will once again brave Chef Gordon Ramsay and his fiery personality. The contestants compete in an intense culinary academy to prove they possess the right combination of ingredients to win the life-changing grand prize: a head chef position working under Executive Chef Kevin Hee at Gordon Ramsay Steak at Paris Las Vegas. Followed by the season premiere of "Masterchef."

(8 p.m. ET on ABC Family) season finale As the fourth season draws to a close, Ben considers transferring to Dylan's school while Anne shares some news with her loved ones.

(9 p.m. ET on Bravo) 90-minute season premiere Countess LuAnn de Lesseps, Sonja Morgan and Ramona Singer welcome Aviva Drescher, Carole Radziwill and Heather Thomson as they navigate their hectic lifestyles of jam-packed social calendars, careers, children and city living.

(10 p.m. ET on Sundance) series premiere double-bill This 14-part series traces the lives of four dynamic, outspoken and beautiful women who, by accident or illness, have been paralyzed from the neck or the waist down. From executive producer Gay Rosenthal ("Little People, Big World," "Ruby"), "Push Girls" captures the daily challenges and personal triumphs of these women, and will shatter all expectations of what life in a wheelchair can be.

(8 p.m. ET on ABC Family) season premiere A summer has passed since Aria, Emily, Hanna and Spencer found out about Mona being "A" and Maya's death. With the terror seemingly over and an alleged murderer now behind bars, the town of Rosewood is slowly healing from old and new wounds and trying to get a sense of normalcy. But what looks normal for each girl is not necessarily so. With post-traumatic stress, anger and the acquisition of more secrets, the four Liars are anything but fine. Now all back together and coming upon the second anniversary of Alison's disappearance, the girls find themselves back on the defensive when a shocking event rocks Rosewood. Followed by the midseason premiere of "Jane By Design."

(9 p.m. ET on NBC) season premiere The adventure dating series returns with new host Jenny McCarthy and 14 new singles who bring more drama, more conflict, more laughter and more tears to the jungle -- with an ultimate goal of finding true romance. The 14 men and women are initially paired up but in a shocking surprise, seven additional men are brought in to kick off the adventures as trios. The trios are immediately thrown into a challenge that forces them to navigate rough waters and crawl through a snake-infested well. The premiere episode concludes in an emotional elimination ceremony that will break up some teams and strengthen others.

(9 p.m. ET on TNT) season premiere Jane and Maura's friendship suffers following the shooting of Maura's biological father, gangster Paddy Doyle (guest star John Doman). Jane also finds herself in the middle of an Internal Affairs investigation. And her relationship with Agent Dean (guest-star Billy Burke) is exposed. Jacqueline Bisset and Ed Begley, Jr. also guest-star. Followed by the season premiere of "Franklin & Bash."

(10 p.m. ET on Oxygen) The show settles into its regular Tuesday timeslot with the first competition show of the season, as the finalists tackle the theme of Individuality.

(9 p.m. ET on USA) season premiere In the fourth season premiere of USA's highest rated series, Hank Lawson embarks on a fresh start with his medical practice and separates from his brother Evan, who also starts his own venture. As Divya attempts to reconcile the brothers, HankMed teams up once more in the face of a Hamptons emergency. Followed by the season premiere of "Necessary Roughness."

(9 p.m. ET on Syfy) season premiere On the Season 2 premiere, the team heads to Warsaw, Kentucky, where a woman's home is suffering hauntings, possibly from two steamboats which crashed in a fiery collision, killing more than 60 people in 1868. Next, they travel to Huron, Ohio, in a race against the clock to remove the dangerous energy from an abandoned silo, scheduled to be destroyed in 48 hours.

(10 p.m. ET on TV Land) season finale When Melanie's hair blow out lasts unusually long, Joy and Victoria demand to know who's blowing out her hair. When Melanie tries to keep it a secret from them, tensions arise amongst our ladies and the two rival hairdressers at Elka's favorite salon. Followed by the finale of "Happily Divorced."

(8.58 p.m. ET on Fox) series premiere Fox has a double-bill of new dating shows from 8-10 p.m. on Thursday, starting with "Take Me Out." We're more intrigued by the unabashed "Voice" rip-off "The Choice," which sees celebrities such as DJ Pauly D, Romeo, Jeremy Bloom and Jason Cook take to the spinning chairs to choose attractive singles to take on a date, sight unseen. It kind of ignores "The Voice's" central premise, since all of the single contestants are supposedly attractive and thus not in need of a blind audition, but it should have some novelty value.

(9 p.m. ET on NBC) series premiere When charismatic Chief of Surgery Charlie Harris (Michael Shanks) at Hope-Zion Hospital ends up in a coma, he leaves the hospital in chaos -- and his fiancée and fellow surgeon, Alex Reid (Erica Durance), in a state of shock. Along with newly arrived star surgeon, Joel Goran (Daniel Gillies), Reid races to save Harris' life. As the action unfolds, the comatose Harris explores the hospital halls in "spirit" form, not sure if he's a ghost or a figment of his own imagination. Reid, along with her fellow doctors, press on to save his life and those of their other patients as they deal with the complicated and courageous decisions that are made in their daily struggle to keep hope alive.

(10 p.m. ET on A&E) series premiere double-bill This new original real-life series follows the Terrebonne Parish Sheriff's Office, a world where the sheriff is like a king, voodoo is a common practice and no police call is routine. Located 45 miles south of New Orleans, the Terrebonne Parish Sheriff's Office investigates thousands of incidents every year. With the fiery personalities of the local Cajuns and the Louisiana justice system unlike any other (it's the only state that is ruled under Napoleonic law), there's no such thing as an ordinary police call. Whether it's a creepy sighting of the Rougarou ("shape-shifting swamp monster"), a distressed neighbor reporting a stolen air conditioner during a heat wave, or a lead on a gruesome local serial-killer case; the deeper into the sticky swampland the deputies delve, the stranger and more mysterious the calls become.

(9 p.m. ET on OWN) series premiere As members of one of the nation's largest emergency response teams, these four female firefighters are ready to battle against nature's most unforgiving forces. Viewers witness the drama, action and danger of their jobs as they respond to life and death situations. With the ending of each shift, these women also open the doors into their personal lives as they strive to balance being mothers, wives, girlfriends and daughters.

(9.30 p.m. ET on TLC) season finale The finale features a bride who returns to Lori's store with a story about her unforgettable maid of honor; a bride who fights with her honorary "bridesman" and a same-sex couple who can't seem to agree on a color choice.

(10.30 p.m. ET on IFC) series premiere On this comedy game show, a panel of comedians compete in inane challenges to win surreal prizes. Contestants are armed with nothing but their wits as they respond to images they've never seen before, make up songs on the spot, complete drawing and sculpture challenges and interact with modern dancers, puppies, babies, gospel singers and more, all under the watchful eye of host Kurt Braunohler.

(9 p.m. ET on Syfy) original telefilm For everyone who has ever fantasized about seeing Snooki being eaten by a shark ... With a cast including Tony Sirico, Paul Sorvino, Jack Scalia, Joey Fatone, William Atherton and Vinny Guadagnino, the movie unfolds during the July Fourth weekend at the Jersey Shore, where angry sharks are on a rampage, devouring residents, leaving it to the local Guidos to save the day.

(8 p.m. ET on VH1) series premiere This spinoff follows the lives of five women allegedly connected to "The Outfit," Chicago's version of the Mob, as they bear the cross for the sins of their Mob-associated fathers. With lives that are right out of newspaper headlines, each woman has chosen her own way to live her life in the city that was once home to Al Capone, sometimes in spite of, and many times because of, who her father is. Along the way, these women battle their friends, families and each other as they try to do what's best for themselves and their children.

(9 p.m. ET on HBO) season premiere Sookie and Lafayette struggle with the aftermath of Tara's shooting, while also cleaning up after Debbie Pelt. Meanwhile, Bill and Eric, cleaning up a mess of their own, are visited by the Vampire Authority, one of whom is Nora, a woman from Eric's past. In search of the missing Marcus, Alcide's werewolf pack comes after Sam. With Bill away, Jessica enjoys her new freedom by partying with local college kids; Jason is visited by the recently turned Rev. Steve Newlin; Terry's PTSD is reignited by Patrick Devins (Scott Foley), an old Iraq War buddy; and Alcide turns up at Sookie's to warn her about the recently resurfaced Russell Edgington. Followed by the season finale of "Veep."

(10 p.m. ET on AMC) season finale In the season finale, opportunity is in the air for everyone and Pete meets a stranger on the train. And of course, in true "Mad Men" fashion, we don't know much else.

(10 p.m. ET on OWN) season premiere From the swinger lifestyle to young girls entering convents, from arranged marriages to child pageants, the new season of "Our America with Lisa Ling" takes viewers along for an in-depth look at some of the most controversial and thought-provoking issues in the United States today. In each episode, Ling immerses herself into the lives of the people she meets and challenges viewers to understand different perspectives and sometimes even question what they themselves have always believed to be true. The first episode focuses on little girls who hope to become beauty pageant princesses.