Another gruesome attack over the weekend involved one man allegedly biting off a piece of another man's face -- and like similar cases, this one, too, involves "bath salts."
Louisiana man Carl Jacquneaux, 43, allegedly attacked his neighbor, Todd Credeur, in Lafayette Parish over an undefined domestic issue, KATC reported.
"During the attack, the suspect bit a chunk of the victim's face off," Scott Assistant Police Chief Kert Thomas told the station.
Credeur said he was working in his yard when Jacquneaux showed up and attacked him. Credeur said he defended himself by spraying wasp poison in the man's face.
Story continues below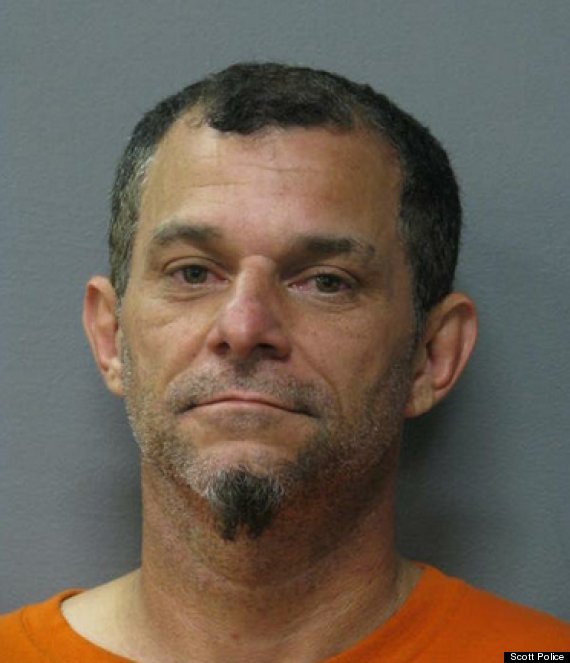 Carl Jacquneaux
Pictures show a large, bloody hole in Credeur's cheek.
Police said that Jacquneaux left his victim's house and showed up at another acquaintance's home and held him at knife point before stealing a handgun, according to the Shreveport Times.
A friend of Credeur's, who told KATC that he knows Jacquneaux, said the alleged assailant was using bath salts. But police may never know because they never performed a field sobriety test on the man before he was taken to jail.
Bath salts -- chemicals legally sold in head shops and other small stores -- can cause hallucinations and paranoia, among other symptoms. The amphetamine cocktail has also been connected to the incident in Miami where a man was shot and killed while chewing off more than 75 percent of a homeless man's face.
Jacquneaux was charged with aggravated burglary, battery, violation of probation, and violation of protective orders. He was held on a $312,500 bond.
Credeur was released from the hospital and is recovering at home.
Loading Slideshow
Charles Baker

While on drugs, <a href="http://www.huffingtonpost.com/2012/06/21/charles-baker-got-naked-ate-flesh-of-jeffery-blake_n_1615800.html?utm_hp_ref=cannibalism" target="_hplink">Charles Baker, 26, of Palmetto, Florida,</a> allegedly got naked, barged into his girlfriend's house, bit a chunk out of a man's arm and ate it, then powered through several cop-deployed Taser probes before getting tackled and arrested.

Lowpel Davis

After trying to steal a wig from the Sassy Beauty Supply Shop in New Haven, Conn., <a href="http://www.huffingtonpost.com/2012/06/08/lowpel-davis-bit-arm-wig-store-owner-spat-flesh-connecticut_n_1581176.html?utm_hp_ref=cannibalism" target="_hplink">Lowpel Davis bit the store owner's arm</a> so hard she took off a piece of his flesh, which she then spat in the man's face, according to cops.

Carl Jacquneaux

Carl Jacquneaux (left) allegedly bit off a chunk of his victim's face while on the synthetic drug known on the street as "bath salts."

Rudy Eugene

This undated booking photo, made available by the Miami-Dade Police Department, shows Rudy Eugene, 31, who was shot and killed by Miami-Dade police after he <a href="http://www.huffingtonpost.com/2012/05/30/new-face-eating-attack-video-miami-rudy-eugene-18-minutes_n_1555653.html" target="_hplink">refused to stop eating another man's face in Miami</a> on May 26, 2012. (AP Photo/Miami-Dade Police Dept.)

Luka Rocco Magnotta

This undated photo, provided by the City of Montreal Police Service's media relations, shows Luka Rocco Magnotta, 29, who is <a href="http://www.huffingtonpost.com/2012/06/01/luka-rocco-magnotta-jun-lin-killed-dismembered-by-porn-actor_n_1562423.html?ref=crime" target="_hplink">suspected of homicide</a>. Montreal police said on May 30, 2012, that they had identified Magnotta as a suspect in a gruesome crime involving severed body parts discovered in packages mailed to Ottawa, Ontario, and in a garbage heap in Montreal.

Alexander Kinyua

Alexander Kinyua, a 21-year-old Morgan State University student, allegedly <a href="http://www.huffingtonpost.com/2012/05/31/alexander-kinyua-kujoe-agyei-kodie-ate-brain-heart-roommate-maryland_n_1560149.html?ref=zombie-apocalypse" target="_hplink">admitted to killing his roommate</a>, Kujoe Bonsafo Agyei-Kodie, and then eating his heart and portions of his brain. Kinyua has been charged with first-degree murder.

Mao Sugiyama

It's not necessarily a crime to eat human flesh. Mao Sugiyama, a self-described "asexual" from Tokyo, had surgery to remove his genitals and then <a href="http://www.huffingtonpost.com/2012/05/24/asexual-mao-sugiyama-cooks-serves-own-genitals_n_1543307.html" target="_hplink">cooked and served them</a> to five lucky dinner guests at a swanky banquet in Japan.

Man Accused Of Eating Wife's Lips

A former employee of a Swedish medical university is accused of <a href="http://www.huffingtonpost.com/2012/06/01/man-eats-wifes-lips-karolinska-institutet-sweden_n_1562776.html?ref=zombie-apocalypse" target="_hplink">cutting off his wife's lips and eating them</a>. The unnamed man allegedly flew into a rage after he became suspicious that his much younger wife was having an affair. A source said the man ate the lips because "he didn't want the lips to be able to be sewn back on."

Jaime Vigil

Vigil is accused of murdering an unidentified person and <a href="http://www.krqe.com/dpp/news/crime/murder-suspect-ate-part-of-mans-face" target="_hplink">eating part of their face.</a> He was arrested in November, 2012 and charged with an open count of murder.