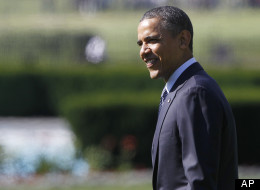 Peter Berg isn't afraid of infusing political commentary into his films.. Both "The Kingdom" and "Battleship" focus on the U.S. military, and his upcoming film, "Lone Survivor," deals heavily with the Navy SEALs.
Berg, whose father was a Naval historian, says his work provides him with a unique connection to American Armed Forces personnel -- and an insight into their political views.
"I have a lot of friends who are in the military, particularly who are in the Navy SEAL community, who are generally Republicans," Berg told THR. "And I've had many conversations where a lot of my Republican friends admit reluctantly that the military has given them freedoms that they've never experienced before. And Obama really is a warrior in chief. He's not afraid to get the job done. And I think that's an important story. I believe in that."
Berg, who in addition to his blockbuster features also produces documentaries (including the upcoming HBO series "On Freddie Roach"), isn't planning on filming anything about Obama directly -- but he does have his eyes on Obama's former Chief of Staff, Rahm Emanuel.
"I've known Rahm since I was a freshman in college," he said. "I feel like if anyone has a shot of cracking Rahm, it's me. That being said I don't know that I'll succeed. But guys like that are of interest to us: people who are polarizing characters, talented yet flawed and undeniably successful. Rahm is a fascinating guy. He's not afraid to speak his mind. He's very candid and very polarizing. And that's the kind of guy that is appealing to me."
While "Battleship" hasn't performed to its lofty financial expectations, its doubtful the director has any regrets. As Berg told Moviefone last year, he's been trying to make a Navy movie for quite some time.
"I love the Navy and I've always wanted to do a Navy film," he said. "I wanted to do John Paul Jones, who founded the American Navy, but I couldn't get that together because 'Master and Commander' came out. I wanted to do 'In the Heart of the Sea,' which was the story of 'Essex,' the whaling ship sunk by a whale -- but the problem with that is it ended in cannibalism, they all eat each other. Then I wanted to do the 'Indianapolis,' the ship that carried the nuclear bombs that we dropped on Japan in the Philippines, then it sunk and all of the men were eaten by sharks. That was too depressing."
For more on Berg's relationship with Emaneul, head over to THR.com.
[via THR]
RELATED:
Gary Cooper starred in the 1941 movie "Sergeant York", a true story of World War I war hero Alvin C. York. According to the Sergeant York Patriotic Foundation, York was awarded the Medal of Honor after he and 16 other soldiers successfully took captive more than 100 Germans enemies, leading them to a prison 10 miles away.

After Huffington Post blogger and author Ron Kovic wrote "Born On the Fourth of July" the autobiography was adapted into a film by the same name, starring Tom Cruise. Kovic, now an outspoken peace activist, was awarded the Purple Heart and the Bronze Star after serving two tours as a marine in Vietnam, where he suffered a spinal cord injury that left him paralyzed from the chest down.

Based on the iconic photograph by Joe Rosenthal, Clint Eastwood directed the true story of the six soldiers who raised the American Flag at Iwo Jima, in "Flags of Our Fathers". The movie is based on the book of the same name, written by one of the soldier's son, James Bradley. The soldiers included John Bradley, Rene Gagnon, Ira Hayes, Mike Strank, Harlon Block, and Franklin Sousley, according to Random House.

Audie Murphy became the most decorated soldier in WWII after he enlisted at the age of 18 -- eventually accepting 24 of medals of honor, including the Congressional Medal of Honor, by the U.S and France, according to imdb.com. Murphy then wrote an autobiography, "To Hell and Back", then starred as himself in the film inspired by the book of the same name.

Matthew Broderick plays Robert Gould Shaw in "Glory", a 1989 film about the first company of black soldiers, which Shaw led into battle during the Civil War in 1863, according to imdb.com.