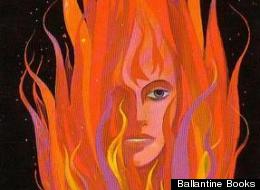 Ray Bradbury, the author of such literary science fiction classics as "Fahrenheit 451," "The Martian Chronicles" and "Dandelion Wine" has died today at the age of 91.
His imaginative stories will not be forgotten, but he should also be remembered for the wisdom shared outside of his novels.
The late writer who spoke out against the defamation of books had a thing or two to say about electronic literature (such as that e-books "smell like bruned fuel") among many other topics.
His advice was mostly constructive: He advocated writing spontaneously, frequently, and with passion, reiterating the necessity of loving your craft.
Here are 13 of our favorite Ray Bradbury quotes:
"You must live life at the top of your voice! At the top of your lungs shout and listen to the echoes."

"Do you know why teachers use me? Because I speak in tongues. I write metaphors. Every one of my stories is a metaphor you can remember."

"I'm not afraid of machines. I don't think the robots are taking over. I think the men who play with toys have taken over. And if we don't take the toys out of their hands, we're fools."

"I sometimes get up at night when I can't sleep and walk down into my library and open one of my books and read a paragraph and say, 'My God, did I write that?'"

"Do what you love and love what you do."

"I don't need an alarm clock. My ideas wake me."

"I've often been accused of being too emotional and sentimental, but I believe in honest sentiment, and the need to purge ourselves at certain times, which is ancient. Men would live at least five or six more years and not have ulcers if they could cry better."

"I don't believe in being serious about anything. I think life is too serious to be taken seriously."

"Don't talk about it; write."

"Go to the edge of the cliff and jump off. Build your wings on the way down."

"The women in my life have all been librarians, English teachers, or booksellers. If they couldn't speak pidgin Tolstoy, articulate Henry James, or give me directions to Usher and Ox, it was no go. I have always longed for education, and pillow talk's the best."

"There is no future for e-books, because they are not books. E-books smell like burned fuel."

"We must move into the universe. Mankind must save itself. We must escape the danger of war and politics. We must become astronauts and go out into the universe and discover the God in ourselves."