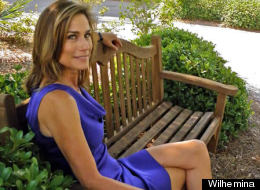 Flip through the pages of any fashion magazine on the newstand, and you'd be forgiven for thinking the industry and its clothing were only meant for pre-pubescent Slavic girls. Wilhelmina International, the modeling agency that launched faces like Iman and Gia Carangi in the 70s and 80s, is searching for a more mature image of beauty with The Wilhemina 30+ Model Search.
Voting by the public for their favorite 30+ model closed on Tuesday. Wilhelmina sought women "who have it all: confidence, beauty, and the ability to inspire other women to feel the same way," according to a press release. Now in its second year -- it returned last year after a brief hiatus -- the competition has drawn 30 semi-finalists, with seven of the beauties over the age of 50.
The winner gets a three-year modeling contract with Wilhelmina, a cover shoot with O Magazine and two $1,000 shopping sprees courtesy of sponsors Macy's and Miraclesuit (along with bragging rights among friends and family).
This isn't the modeling agency's first time focusing on older models; former president Sean Patterson was a judge on TV Land's She's Got The Look, a reality show that attempted to be America's Next Top Model for models over the age of 35.
Meet the post 50 contestants and read why they think they should become a finalist in Wilhelmina Model's competition in the slideshow below.
Wilhemina Model's Post 50 Semi-Finalists
Why should you be the next 30+ Model?: At age 51, I believe it is the perfect time for me to launch a modeling career. I am excited at the opportunity to exude confidence and style into an industry that is beginning to show more faces with crows feet and more bodies that are still strong into their later years. My age may have a higher number but my spirit aligns with a youthful presence... and always will!

Why should you be the next 30+ Model?: I would love the opportunity to model for Wilhelmina to show all the up-and-coming baby boomers how great it is to be comfortable in one's skin at a later age and how wonderful it can be to keep reinventing ourselves. We can stay healthy, sexy, intelligent, and confident, all with a great attitude.

Why should you be the next 30+ Model?: The phrase "gets better with age" is my reality. I have faced many challenges through life's highs and lows which have many ways to tell on a woman. I have experienced many of these moments caring for my now deceased parents. However, I've been able to tackle those challenges and many more through my strong spiritual foundation, self-confidence, family and friends. I want to show and remind real women that beauty shines through every triumph and obstacle, and everything is possible when you believe in yourself.

Why should you be the next 30+ Model?: It has taken many years, hardships and triumphs to develop the confidence to pull the two qualities of beauty together. At age 50, the emotional reflection can be seen in my print and film. I welcome representing older woman; by honing your personal attributes and living a healthy lifestyle, you can look and feel beautiful forever.

Why should you be the next 30+ Model?: Under my senior portrait read the caption, "From her radiates the pure joy of being alive." It is as true today, 35 years later as it ever was. I believe this caption not only perfectly embodies me to this day, but the quality sought by The Wilhelmina 30+ model search itself. I am this face. I am this woman who still radiates the pure joy of being alive! The Wilhelmina 30+ Model of 2012 should exude nothing less.

Why should you be the next 30+ Model?: I feel I have much more to offer those to whom my journey meets now, than I did as a young woman. My life goals have been to bring credence to my God-ordained tasks, to adhere to principles of charity, and to try as best I could to keep focused on the importance of faith and family. My ambition has been to closely follow the saying: "Every job is a self-portrait of the person who did it. Autograph your work with excellence."

Why should you be the next 30+ Model?: ...At this point in my life, I feel more alive, confident, and beautiful than I ever did in my younger years. Having the smarts of a woman over 50 years old (eating right, staying fit, avoiding the sun and enjoying life) and with the attitude of a 21 year old allows me to feel rejuvenated and more confident in my life.