Barbara Walters revealed on Thursday's "View" that she had a few odd jobs before finding her stride as a broadcaster.
Before "The View," before "20/20," even before "Today," there was Sport Car & Hot Rod magazine. "View" co-host Whoopi Goldberg introduced the cover photograph on the show, saying that Walters posed for the shot behind the wheel of an Austin-Healey when she was a mere twenty-year-old.
"You are now all finding out that I'm not a natural blonde," Walters said.
Walters said she was a writer and producer on a local show on NBC called "Ask The Camera." One of the producers asked Walters to pose in an ad, and she was happy to oblige. "Money, money! Oo great!" Walters said excitedly, explaining why she agreed to pose.
"So they put me in this car in Central Park, and doesn't it look great? Except I can't drive!" Walters said.
"Don't you have a license?" co-host Joy Behar asked.
"No I have one of these things that you get—I have an ID but I don't have a drivers license," Walters said.
"Does it say 'please, do not drive' on it?" Behar joked.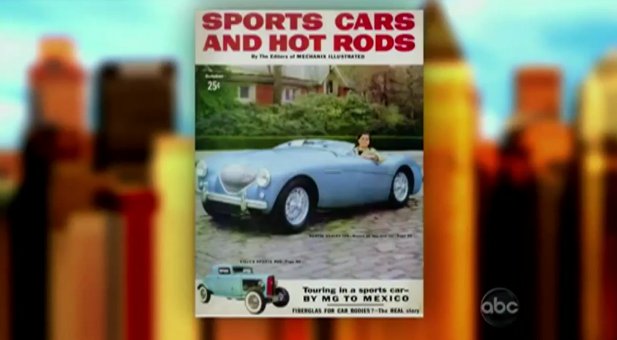 Related on HuffPost:
Loading Slideshow
Barbara Walters at "Today," 1970

Barbara Walters got her big break at "Today." She worked her way up as a writer, a "Today Girl," a reporter and finally the show's first female co-host. In the clip above, she is shown interviewing Mary B. Gallagher, former personal secretary to Jackie Kennedy.

Barbara Walter's last "Today" Show

Barbara Walters stayed at "Today" for 15 years. She was officially named co-host in 1974 -- two years before she left. She made her last appearance, via video footage, in June 1976.

Barbara Walters on "ABC World News"

Barbara Walters made the move to ABC in 1976 when she became co-anchor of "ABC World News" with Harry Reasoner. The clip above is a 1978 promo for the evening news program.

Barbara Walters on "Not For Women Only"

Barbara Walters hosted "Not For Women Only," an early morning talk show, from 1971 to 1976. The show featured guests and experts discussing social issues in front of a studio audience.

Walters' interview with Oprah

Walters hosted the ABC newsmagazine "20/20" for twenty years. Oprah opened up about her childhood and her biggest ambitions in this blockbuster interview with Walters in 1988.

Barbara Walters' 1991 "20/20" with Margaret Thatcher

Walters spoke about Margaret Thatcher's visit to the White House in 1991. She was seated next to President Bush at the state dinner, and spoke about their conversation before signing off this episode of "20/20."

Barbara Walters on the 15th anniversary of "20/20"

Walters and Downs marked the 15th anniversary of "20/20" with a special commemorative episode looking back at their most memorable stories.

Barbara Walters with Michael Jackson

Walters sat down with Michael Jackson in 1997. He opened up about his experience being hounded by the paparazzi, and his feelings about the death of Princess Diana. He criticized the media for negative press, including dubbing him "Whacko Jack-o."

Barbara Walters with Monica Lewinsky

Walters interviewed Monica Lewinsky on "20/20" in 1999. The record-breaking interview was seen by 74 million viewers.

Barbara Walters on "The View"

Walters created "The View" in 1997. It is now in its 15th season, with Walters, Joy Behar, Whoopi Goldberg, Sherri Shepherd and Elisabeth Hasselbeck.