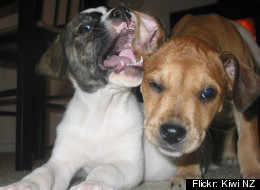 San Francisco will be host to the perfect opportunity to finally find that dog or cat you have been waiting for this weekend.
Maddie's Fund will hold its third annual Maddie's Matchmaker Adoptathon on June 9 and 10. This is the first year that San Francisco adoption centers have been added to the roster, and more than 14 SF-based shelters and rescue organizations are signed up.
(SCROLL DOWN FOR PHOTOS)
Maddie's Fund is a family foundation funded by founders Dave and Cheryl Duffield. The organization hopes to create a no-kill nation where all healthy and treatable shelter dogs and cats are guaranteed a loving home.
Maddie's Fund has set aside $3 million for this weekend's Adoptathon in order to ensure its goal of finding new homes for 3,000 dogs and cats in the Bay Area -- 700 more pets than last year's goal.
By matching 3,000 animals with new homes, organizers of the Adoptathon hope the event will give San Francisco shelters more space to take in furry friends in need.
"The joy we saw in the animals, as well as the volunteers and the adopters, is the reason we created Maddie's Fund. The Adoptathon is a testament to what can be done when people come together in lifesaving and rally for a common cause," Duffield said in a statement.
The two-day Adoptathon will take place on Alabama Street near the San Francisco SPCA and Animal Care and Control, and run from 10 a.m. to 8 p.m.
Free adoptions will be available for qualified adopters, and Maddie's Fund will reimburse each organization $500 to $2,000 per adoption.
Click through last week's featured adoptable pets below, and get ready for another adorable overload, courtesy of Northern California Family Dog Rescue:
Adele is a very smart, five month old, female Australian Shepherd. She is partially blind and partially deaf, but that doesn't hinder her at all.

Bunny is a lovable, 5 year old, 75 pound, female, American Bulldog/Olde English Bulldog Mix.

Clara is a sweet and sassy, seven month old, female, Terrier mix.

Logan is a handsome 5-6 year old, male, Wire Haired Pointing Griffon.

Grace is a two year old, female, American Pit Bull Terrier.

Pavo is a 2-3 year old, male, Poodle/Tibetan Terrier Mix with a big personality.

Piglet is a 10-12 month old, male, Boxer mix, who loves dogs and people.

Marian and Vivian, named after a set of famous San Franciscan twins, are shy, female, 6-8 year old, Chihuahuas, and a bonded pair.

Charlie is an 8 month old, male, Border Terrier mix, and might be the cutest and friendliest dog ever.

Travis is an extremely happy, male, 6 year old rough Collie mix.

Wadsworth is a three year old, Royal Pekinese.