Toaster Oven Recipes: Our Readers' Impressive Creations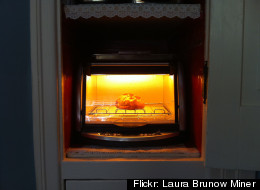 Cooking isn't easy -- even home cooks who love spending time in the kitchen know that. It takes practice, patience and a great many failed dishes before you can confidently make a meal you'd be proud to serve to others. But cooking in a toaster oven, that's even more challenging -- and a challenge it seems many people are willing to take. Whether out of necessity (lack of space), curiosity or just trying to conserve energy, people have cranked many impressive dishes out of their tiny toaster ovens -- some have even made a complete Thanksgiving dinner.
We asked our Facebook fans to tell us what they've made in a toaster oven. Click through the slideshow below to see what delicious dishes those compact ovens can make, and let us know what you've made by entering your own slide.
Recipes To Make In the Toaster Oven
It might fit nice and snug, but a pie gets just as golden brown in the toaster oven as it does in a conventional one. "Homemade cherry pie and whole wheat bread, oven was broken." - Jayme Gaines

You can make a gourmet meal in that tiny oven -- no need to go out to dinner anymore. "Broiled Lamb chops, yellow rice, green beans and pop tarts for dessert." - Kioka RealEyes Realize Henderson

Quail eggs! Custard! All in the toaster oven! That is one impressive feat. "Miniature loco moco with quail eggs and coconut custard mochi squares." - Alexis Standfield

It's rare to come across someone who doesn't like pizza, so it's good to know that you can make one in your toaster oven. "If you're a Foodie and that's all you have as your main cooking appliance you learn very quickly what the limits are and how to push them. One of my fav applications was for 8 inch pizzas. I threw a Superbowl party one season and had a pizza bar for DIY pizzas. As long as you preheat the toaster over to 450F for around 10 min. you can pop out 8 inchers two at a time every 8 - 10 minutes! A big hit... " - Bill Mosley

Forget making an impressive dish in the toaster oven -- what about an entire impressive meal. "A complete Italian meal with Caesar salad, lasagna, bruschetta and mussels.. It was all I had to cook with for a year... " - Bill Mosley

Often times one oven doesn't feel like enough when trying to successfully make Thanksgiving dinner -- looks like you don't even need that. "One year (recently) I made Thanksgiving dinner in two crock pots & the toaster oven....never turned the stove oven on....I use my toaster oven constantly." - Sara Ball Campbell

Baking a cake is no simple task, but it's easy enough for a toaster oven to handle. "I only use my toaster oven now,my heating element burned up in my oven and I didn't replace it. I have cooked my whole Thanksgiving meal in it, bake cakes, pies and cupcakes in it regularly, roast vegetables... everything." - Angela Woodrow Parker