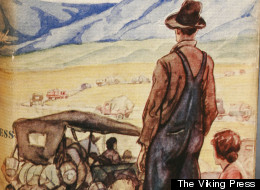 The following is an excerpt from Stuff Every American Should Know[Quirk Books, $9.95]
by Joseph D'Agnese and Denise Kiernan.
Most of us read for entertainment, but American thought has long been shaped by powerful works of fiction and nonfiction that help illuminate national issues and concerns. Here are 10 classic works that helped to shape a nation:
In language simple enough for everyone to understand, Thomas Paine's pamphlet made a case that the colonies should break with Great Britain. It was so well received that it became a best seller of sorts in its day.

Though the U.S. Constitution was conceived and written during the summer of 1787, the document still had to be ratified by 9 of the 13 states before it could take effect. These 85 essays, written by Alexander Hamilton, James Madison, and John Jay, implored Americans to embrace and accept the Constitution lest the young nation fall apart.

Harriet Beecher Stowe's controversial novel about slavery in America became a best seller in its time and was a major factor in the development of antislavery sentiment. When Abraham Lincoln met its author, he hailed her as the little lady who started a war. The book's legacy has suffered in recent years due to its stereotypical portrayal of blacks.

Mark Twain's follow-up to "The Adventures of Tom Sawyer" is hailed by many critics and writers as the first great American novel. Twain chronicles the adventures of a young boy named Huck and his friend, a runaway slave named Jim, as they flee south along the Mississippi River. The lessons of this controversial book are undermined, some say, by its frequent use of the "n-word" and for decades it has been the target of censorship in schools and libraries.

Margaret Mitchell's epic romance novel brought Scarlett, Rhett, and Tara to the world, won a Pulitzer Prize, became a best seller, and was adapted to become one of the highest grossing movies of all time. Its depictions of the Civil War and slavery have its critics, but its romantic depiction of plantation life and Southern belles has made it one of the most beloved books of all time, with more than 30 million copies sold.

John Steinbeck's story about a displaced Oklahoma family forced to abandon their farm and seek work as migrant workers during the Dust Bowl phenomenon of the early 1930s won the author a Pulitzer Prize. The book focused attention on the plight of millions of Americans suffering during the Great Depression.

Ralph Ellison's invisible man is not the victim of a freak science experiment but an African American man who struggles with the fact that goes largely unseen by the larger white culture. By the end of this 600-page novel, the reader still has not learned the main character's name.

We all know war is hell, but Joseph Heller's book showed us that war could also be absurd. This satirical look at World War II contributed to the American lexicon the phrase catch-22, meaning, an illogical set of rules that stymie well-meaning people at every turn.

Rachel Carson's unflinching nonfiction examination of how pesticides have polluted our world is credited with sparking the birth of the environmental movement in the United States.

Dee Brown's book examines the history of the United States through the eyes of Native Americans, paying special attention to their mistreatment at the hands of European Americans. The title of this controversial best seller refers to the massacre that took place near Wounded Knee Creek, South Dakota. There, in 1890, more than 150 Lakota Sioux were killed by the 7th Cavalry in what is considered the last major armed confrontation between Indians and U.S. government officials.