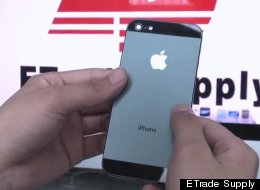 Apple's iPhone 5 may be two-toned after all. A new video from mobile parts seller ETrade Supply made waves Thursday for featuring the same alleged iPhone 5 frame 9to5Mac got its hands on recently.
The video comparison of the new iPhone part with an iPhone 4S advances the series of next-gen rumors that have spread like wildfire as the countdown for Apple's Worldwide Developer's Conference on June 11 continues.
(See the alleged iPhone 5 part in the video above.)
Providing a more advanced, 360-degree view of the alleged iPhone 5 part, the handler in the video shows off the placement of the model's relocated earbud jack and tiny charging port. Most apparent though, is the iPhone part's length since it is much longer, and slightly thinner, than the iPhone 4S. This size could potentially provide the space for a larger, 4-inch screen.
What's also interesting, as the handler points out, is that the new iPhone part appears to combine both the metal frame and back pane of the iPhone. In earlier generations, these parts were separate.
It's not likely Apple will unveil the iPhone 5 until the fall -- fingers crossed for September -- so until then, iPhone fanatics will have to make due with iPhone 5 mock-ups and leaks.
(h/t Slate)
Check out the gallery below to see this past weekend's roundup of Apple rumors.
This Week In Apple Rumors: Endless Summer
Maybe it's because we're so close to an Apple event -- the Worldwide Developers Conference starts June 11th -- but the Apple rumors have been flying faster than a hummingbird on a caffeine kick, I tell ya what. For example: We have a boat-load of iPhone 5 rumors this week. And not a small boat, either: A really big boat! Loaded up with iPhone 5 rumors. First off the boat is this rumor from 9to5Mac. The Apple-focused site claims to have images of the back shell of the upcoming iPhone, one of which you can admire at left. As you can see, it's got a bit of a two-tone look -- the white one, particularly, looks like a bowling shoe. Aesthetic concerns aside, you might also notice that the dock connector is much smaller than on previous versions (start saving for a new car charger now...) and that the headphone jack has mysteriously moved to the bottom of the device. Hey, Little Buddy! How'd you get down there? For more photos of what could be the next iPhone, and a bunch of thoughts about what these leaks mean, head over to 9to5Mac. Like we said, though, this isn't the only iPhone 5 photo to slip onto the Internet this week. Oh no. Here's another one, coming at you in FIVE, FOUR, THREE....

In addition to 9to5Mac's leaked iPhone 5 photos, a website called uBreakiFix.com -- which, I am told, fixes things that you break -- unveiled a mysterious iPhone 5 picture of its own. It's a similar, lower-quality version of the one posted on 9to5Mac, which makes me think the two might have the same leaker (You guys should all have lunch together or something!). Like the snapshots from 9to5Mac, this model iPhone (via our buddies at Engadget) also shows the transported headphone jack and smaller dock connector. Also, the two-tone-bowling-shoes color scheme. This isn't Nam, Smokey. There are rules, etc., etc. Bowling jokes aside, the new design sure is striking, huh? (So sorry). But what's that? You're still thirsty for more looks at the new iPhone? Well then DRINK THIS MILKSHAKE ---

This blueprint, supposedly of the next iPhone, comes to us via Cydiablog.com. Cydiablog -- which I have on good authority is a blog covering Cydia -- received the blueprint in their mailbox and trusted the sender enough to publish the dang thing. As you can see, the display is the same width as the one on the iPhone 4S; this one, however, is a bit taller, hypothetically giving the iPhone 5 afour inch diagonal. As a hero of my childhood once said: "Hey, it could happen!" (And it probably will happen, if the clusters of reports from the likes of the Wall Street Journal, Reuters, and Bloomberg over the past weeks are accurate). So when will this bad boy come out? When do we have to stop speculating about whether this leak is real, or that photo is authentic, or whether I'm calling my mother enough? One analyst thinks he has an answer...

RBC Capital Markets Analyst and amateur dubstep DJ* Amit Daryanani says that a new line of MacBooks should be ready for June release and that the new iPhone will be out this fall with 4G LTE. That's in line with the thinking of -- well -- just about everyone. New MacBooks in June. New iPhone in September or October (probably October). Write it in Sharpie on your wife's forehead: That's the schedule. Speaking of new MacBooks... *not really though

AppleInsider reports that some SECRET STUFF has been going down at several Apple stores, with CLANDESTINE executive visits and all-hands meetings SHROUDED IN SECRECY. The Apple site doesn't think these SECRET MEETINGS are concerned with new hardware (though MacBook Pros are totally coming in June); rather, NO ONE KNOWS why these SECRET MEETINGS are taking place. As if this couldn't get any better, there's this, an actual sentence from the AppleInsider report: Separate and perhaps even more mysterious claims were also shared this week with AppleInsider, alleging that network engineers from Apple's retail headquarters in Cupertino, Calif., showed up at several retail stores unannounced, wielding a mysterious "black box." Those who arrived reportedly had back-of-house access codes and keys, along with passwords for local servers in the retail stores. A MYSTERIOUS BLACK BOX. PASSWORDS. CODES. KEYS. Let's move on -- SOMEONE COULD BE LISTENING.

So, WWDC -- Apple's conference for developers around the wide world -- takes place in June, and now that it's getting closer, the rumors around what Apple will unveil are flying. Here they are, in bullet points, for your convenience: - Apple will probably show off iOS 6 for iPad, iPhone and iPod Touch, featuring a new 3D version of the Maps app. Boy Genius Report has what it says are pictures; 9to5Mac has all the details here. - Apple might also show off a new interface for its Apple TV set-top box, says BGR. The well-connected Jon Gruber surmises that this may be true, especially if Apple opens up the OS to third-party applications. That would mean Apple would get to pitch the developers in the audience on Apple TV and inspire them to code for it. - Apple could, JUST MAYBE, show off a prototype of its "iTV" television set -- again, to inspire developers to write apps for it. The first two seem likely; the third one is more of a longshot, though a possibility, I suppose. After all the television talk and innuendo from the company's CEO at the All Things D, who knows what Apple is Cook-ing up? I'm sorry for that pun. I am so, so sorry for that pun. That's all for This Week In Apple Rumors. Check back next week for more, and if you can't wait that long, you can get up-to-the-minute Apple rumors by following me on Twitter right here.