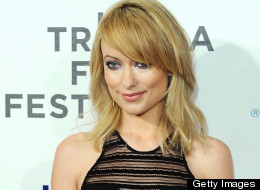 Every relationship is different, but recently engaged star Miley Cyrus might want to listen to what Oliva Wilde has to say.
The 28-year-old actress opened up to Amanda de Cadenet on the Lifetime series, "The Conversation," about her divorce from Italian prince and filmmaker Tao Ruspoli.
Wilde said that after eight years of marriage, she realized her marriage wasn't working.
"I think I finally started being really honest with myself, and that is a scary thing to do, to really look in the mirror and say, 'I am the luckiest person on earth, there is this extraordinary person who's my partner in life, everything seems perfect, why aren't I happy? There's something wrong,'" she told Cadenet.
The actress said "I do" at the age of 19 and signed her divorce papers in 2011, and now admits that getting married so young "stunted her growth."
"I really had a sense that I had stunted my growth. I think that's one of the things that made me feel so uncomfortable in my marriage. It was really no fault of my husband. It was me realizing that I had sort of arrested development. I knew the only way I was going to grow the f**k up was to learn to take care of myself," she explained.
Getting married so young is likely to add more strain to a relationship since it's not uncommon for people to grow and change in their twenties, which can also mean outgrowing a partner.
However, every relationship is different and there are a ton of young stars in Hollywood who have made their marriages work. It also doesn't hurt that Cyrus' family seems to be onboard with her engagement to Liam Hemsworth. On Thursday, Miley's mom Tish, tweeted her approval, writing:
@tishcyrus

Tish Cyrus
Wow! All of the LOVE pouring out for Miley and Liam is incredible! So happy for my precious baby girl and the love of her life!
And the young star's dad, Billy Ray, also tweeted his blessing, but reportedly hopes that Miley and Liam have a long engagement and don't make any plans to rush to the altar.
Check out more stars who married young; some marriages are still going strong and some couldn't stand the test of time:
Olivia Wilde and Tao Ruspoli got engaged at Burning Man and married in the back of a school bus in 2003. She was just 18 years old at the time. Her divorce from the Italian prince, eight years later, was finalized Sept. 29.

Megan Fox wed longtime boyfriend, Brian Austin Green, 36, in June 2010 in Hawaii at the age of 22. The two first met on the set of the sitcom "Hope & Faith" in 2004.

Solange Knowles wed her high school sweetheart, Daniel Smith, at age 17 in 2004. They divorced before she was 21 years old in 2007. They have a seven-year-old son together named Daniel.

Actress and singer Hilary Duff was just 22 when she tied the knot with Canadian hockey player Mike Comrie, 29, in Santa Barbara, Calif. in August 2010. The couple began dating in 2007, and Comrie proposed in February 2010 while the pair were vacationing in Hawaii. Duff gave birth to the couple's first son, Luca Cruz, in March 2012.

Avril Lavigne wed Sum 41 singer Deryck Whibley when she was 21 years old in 2006. They divorced three years later in 2009, citing "irreconcilable differences."

Actress and model Bo Derek was only 18 years old when she wed Hollywood director John Derek, who was 30 years her senior. The couple remained married until John's death in 1988.

Drew Barrymore and bar owner Jeremy Thomas dated for six weeks and got married in 1994 when she was just 19 years old. They divorced less than two months later.

Kevin Jonas, of the Jonas Brothers, married his girlfriend Danielle Deleasa at the tender young age of 22 in December 2009. Jonas first met his bride, who is one year older than him, in 2007 while both were vacationing with their families in the Bahamas. The pair were engaged by July 2009.

Macaulay Culkin and Rachel Miner wed when they were both age 17 in 1998. They separated in 2000, but didn't get divorced until 2002.

Country songstress Dolly Parton wed beau Carl Thomas Dean when she was just 20 years old in 1966. The pair are still together.

Melanie Griffith married Don Johnson when she was 18 years old in 1976. They divorced shortly after but remarried in 1989. They divorced again in 1996. They have a 22-year-old daughter together named Dakota.

LeAnn Rimes wed Dean Sheremet when she was 19 years old and he was age 21 in 2002. They divorced seven years later after she cheated on him with Eddie Cibrian, to whom she is now married.

Kate Hudson wed Black Crowes singer Chris Robinson when she was age 21 in 2000. They divorced seven years later. Hudson and Robinson have a seven-year-old son, Ryder.

Lana Wood, younger sister to silver screen actress Natalie Wood, wed at age 16 in 1962 to Jack Wrather Jr., but had the marriage annulled months later. She married and divorced a total of five times by the age of 29.

Nineties singing sensation Taylor Hanson decided to get hitched early -- at the age of 19. His bride? Eighteen-year-old Natalie Anne Bryant. The two married in June 2002, and are currently expecting their fifth child together.