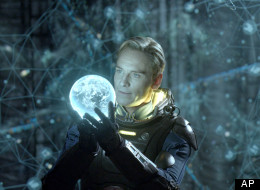 After months of hype, speculation and hilariously spoiler-filled trailers, "Prometheus" has landed in theaters with a bang.
The Ridley Scott film grossed $3.6 million from its midnight screenings, which is more than "Men In Black 3" and "Snow White and the Huntsman" earned from their respectively late-night debuts. That's an encouraging start for the R-rated blockbuster, which could pull down more than $60 million in ticket sales by Sunday night. Should that be the case, "Prometheus" would rank as the fifth biggest R-rated debut of all time, behind only "The Matrix Reloaded," "The Hangover Part II," "The Passion of the Christ" and "300."
Starring Noomi Rapace, Michael Fassbender, Charlize Theron, Idris Elba, Logan Marshall-Green and Guy Pearce, "Prometheus" is out in theaters now. Check out some reviews of the film below and keep HuffPost Entertainment bookmarked for all your weekend box office needs.
[via THR]
The paranoia becomes palpable, and a lot of its impact comes from how dramatic and dazzlingly seamless the special effects are.

It's aiming to be both an epic space thriller and a spiritual treatise, and watching it almost accomplish both makes it all the more frustrating.

With this overreaching Prometheus, Scott seems a bit like David carefully arranging his hair in imitation of O'Toole's Lawrence. He can still mimic the appearance of an epic, noble, important movie -- but the appearance is all.

"Prometheus" repeats many past glories, and its plot is squishy nonsense. But its grand sets and intricate effects are dazzling, and in at least one scene, Scott almost manages to top himself.

Prometheus elicits Alien memories for viewers who have them, but works on its own, too, as a model of a contemporary (and, as is the contempo mode, long-winded) sci-fi horror pic.

"Prometheus" damn near lives up to the unsustainable hype, at least at the level of cinematography, production design, special effects and pure wow factor.

Watching "Prometheus" is like opening a deluxe gift box from Tiffany's to find a mug from the dollar store.

But Mr. Scott's sense of visual scale, which has often produced hectic, hectoring grandiosity (are you not entertained?), achieves, especially in the first hour, something like genuine grandeur.

Ridley Scott's "Prometheus" is a magnificent science-fiction film, all the more intriguing because it raises questions about the origin of human life and doesn't have the answers.