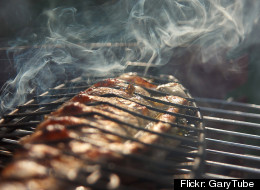 The aroma of the barbecue is an alluring one -- hamburgers, steaks and hot dogs on the grill are a common summer sight to see (and smell), but when it comes to grilling fish, well not so much. It seems many people fear grilling fish for various reasons: fish is expensive, it can fall apart, it's hard to tell when it's done, etc. But once you've learned a few tips and tricks, grilling fish can be a cakewalk. We're sharing our secrets for grilling fish, one of the biggest being how to keep it from sticking. Browse the slideshow below to learn all the tips and tricks that will have you perfectly grilling fish at your next backyard barbecue.
Almost all fish benefits from a flavorful marinade. Some oil, acid, herbs and/or spices are all you need to make a marinade -- save the salt and pepper for just before you add the fish to the grill. Marinate for about 15 to 20 minutes in the refrigerator -- any longer and you will have ceviche since the acid will cook the fish if left for a long period of time. Photo from phunkstarr, Flickr.

One of many people's biggest fears about grilling fish is having it stick to the grill. But fear not, proper lubrication is the key -- not only should you brush your fish with oil before grilling (unless your marinade includes oil), you should also brush the grates too. Brushing the grates alone doesn't do a thing for keeping the fish from sticking. Once you've put that fish down on the grill don't move it until it's properly seared, after about 5 minutes, then it can flipped without it sticking or tearing apart. The best brush you can use for grilling is a natural bristle brush with a long handle. Nylon brushes will melt and silicone ones can melt if your grill goes over 650 degrees F. Grill Zone Natural Bristle Grilling Basting Brush, $10.89 at Amazon.com

If you've chosen to grill a fillet, it's best to cut it up into smaller portions. Not only will it be easier to manage on the grill but you can ensure the fish cooks up evenly -- the skinnier tail end doesn't need to cook as long as the thicker part of the fillet. Cut your fish into portions that have an even thickness to ensure you don't have dry parts and/or undercooked parts all on one portion. The general rule is a fish will take 8 minutes to cook through per inch of thickness, which means about 3 to 5 minutes per side. If you're cooking a whole fish the accepted number is 10 minutes per inch. It's okay if salmon or tuna stays rare on the inside, but other fish should be cooked through. Photo from Lori_NY, Flickr.

Many people don't always have the patience to preheat a grill properly, but you must let the grill preheat for at least 30 minutes to get it really hot -- if you put food on a warm grill it will inevitably stick to the grates. If the grates are very hot, the food will sear and seal as soon as you add it to the grates. So when you're grilling fish, make sure to get the grill hot and you won't have to worry about the fish sticking. Photo from Stefano A, Flickr.

If you've decided to cube your fish and grill it on skewers, make sure you're using flat, metal skewers. The flat shape will help the fish stay in place, so when it comes to flipping the fish it will actually flip and not keep rolling on the skewers (that's what happens if you use bamboo skewers, which are cylindrical). Norpro 14-Inch Stainless Steel Skewers (set of 6), $5.66 at Amazon.com

If you're looking for a way to infuse barbecue flavor into your fish, try a wood plank. Available in several varieties of wood, the planks should be soaked in water before using on the grill. The fish is placed on top of the plank and cooked, but since there is no contact with the grill grates, the fish won't have that characteristic char, but at least it won't have a chance of sticking. Wood Grilling Planks, $11.96 - $25.60 at Williams-Sonoma.com

If you're grilling a whole fish and don't want to deal with the difficulty of flipping it, use a grilling basket. You can find square or rectangular grilling baskets, which are designed for grilling many other foods besides fish, or you can choose a basket designed and shaped for fish, like this oval one. Still, you must be sure to oil the fish and the grates before grilling -- the fish still can stick even through the basket. Charcoal Companion Nonstick Fish-Grilling Basket, $22.99 at Amazon.com

The best types of fish to grill are meaty ones like halibut, salmon and swordfish. Stay away from very delicate fish like flounder or sole or even cod, which flakes and falls apart much too easily on the grill. If you're a beginner fish griller, choose fish steaks -- they're easier to grill because the meat is cut crosswise so the fish doesn't fall apart as easily as a fillet would. Another good choice for grilling is a whole fish, but you'll need to cook it longer than a steak or a fillet. If you choose fillets, leave the skin on so the fish will keep together better during grilling (remove it easily after the fish is grilled). The flake test is a great way to check for doneness. Simply use a fork to flake a bit of the meat off from the fish. If it flakes nicely and is opaque throughout, it's done. If it's still glossy on the inside, it needs more time to cook through. Photo from Editor B, Flickr.

Forget about tongs when grilling fish -- you will definitely end up with a mess on your hands if you use them. Look for long grilling spatulas, better yet, but two. When flipping fish, use one spatula to get under the fillet and use another to hold the top of the fish securely in place as you make the flipping motion. (You now can also find spatulas that are a cross between a tong and spatula for this type of flipping.) If you're grilling whole fish directly on the grates and need to flip it to the other side, you have two options: One, you could roll the fish over onto its other side, or two, flip the fish onto a piece of foil and then slide the fish off from the foil back onto the grill grates. RSVP Long Grilling Spatula, $10.00 at Amazon.com

A grilling tray is perfect if you've got a grill that has very widely spaced grates, if you're grilling fillets or flaky fish, or if you simply need some training wheels before you graduate to grilling directly on the grates. Grilling trays have small holes or slits to let the heat through and are meant for small foods like vegetables and seafood. They come in nonstick versions, but those can release chemicals when heated to high heat, so choose ones that are stainless steel and make sure to oil them before placing your oiled fish on them. The small holes or slits will ensure your fish fillets won't fall through the grates. Weber Stainless Steel Grilling Tray, $19.99 at Amazon.com

If your grill has very widely spaced grates and you don't want to buy a grilling pan or grilling basket, you can go the frugal route and choose to grill on aluminum foil. (You can now even find nonstick coated foil for grilling.) Though you may not get the nice char marks, you will definitely have an easier time grilling the fish. Another option is to grill the fish in foil packets, however when you bundle the fish in foil it will not get any smoke or char from the grill, which means the fish effectively steams in the packet. It's a healthy option, so many people might find it appealing. Photo from thebittenword.com, Flickr.

Many chefs use the technique of grilling on herbs to infuse fish (as well as meat and poultry) with flavor. All you do is lay a bunch of herbs onto your grill grates. Then simply grill the fish on top of the herbs and flip as usual. Use hardy herbs such as rosemary or thyme or even fennel fronds. It's a good idea to toss the herbs in the same marinade as your fish (or spray with oil) to get them lubricated so they don't burn immediately on the grill. Photo from Living in Monrovia, Flickr.

Learn to make perfect grilled fish every time.
Sources: New York Times, About.com, SheKnows.com.
Main photo from GaryTube, Flickr.