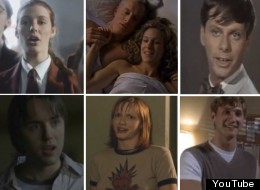 Only time will tell what will happen to Joan, Don, Peter, Roger and the rest of the beloved "Mad Men" characters in Sunday night's Season 5 finale (10 p.m. ET on AMC).
But instead of attempting to draw conclusions about what's to come, HuffPost TV is taking a look back at the stars of "Mad Men" before the AMC drama was a glimmer in creator Matt Weiner's eye.
Want to see Christina Hendrick's (Joan Harris) sexy stint on MTV's late-night soap "Undressed" in 1999? Or another "Mad Men" female lead in a teen lesbian drama with Mischa Barton (plus, Piper Perabo and Emily VanCamp)?
How about John Slattery (Roger Sterling) playing a politician with a urination fetish on "Sex and the City" a decade ago?
There's also Aaron Staton in a sweater vest on "7th Heaven" before becoming Sterling Cooper account executive Ken Cosgrove, January Jones (Betty Draper) as a kinky towney in "Love Actually" and many more early moments from the cast of "Mad Men," including what Bert Cooper was really doing in the '60s.
Check out the videos in the slideshow below and let us know where you recognized the "Mad Men" stars from before Sunday's Season 5 finale.
Tune into the season finale of "Mad Men" on AMC on Sunday, June 10 at 10 p.m. ET.
Mad Men Stars Before They Were Famous
Slattery appeared in two Season 3 episodes of "Sex and the City" as Carrie's (Sarah Jessica Parker) silver fox politician fling Bill Kelley, who had a urination fetish that ended their relationship.

Before she was dropping jaws as the beautiful, curvaceous Joan on "Mad Men," Christina Hendricks made her rounds on multiple TV shows, one of the earliest of which was MTV's "Undressed." She played the sexy Rhiannon for four episodes on the anthology series.

On "Buffy" spinoff "Angel," Vincent Kartheiser played the titular character's son Connor in his teen years during the show's third, fourth and fifth seasons. Connor experienced some traumatic events in literal hell in his infant years, leading to a tumultuous relationship with Angel. But when he makes the sacrificial decision to give his son a normal life and erase his memory, Connor (as you can see in this clip) actually thinks the whole vampire thing is kind of cool.

Among the many cast of characters in the beloved 2003 holiday movie "Love Actually," was a young January Jones -- clad in fur and tight shiny pants -- as Jeannie, a townie who lives with two friends (one of which is "Happy Endings" star Elisha Cuthbert). At a Milwaukee dive bar, they meet (and later bed) British tourist Colin (Kris Marshall) along with their fourth roommate ("American Pie" star Shannon Elizabeth).

Rich Sommer hasn't been acting very long, but before he made it to the offices of Sterling Cooper, he played Anne Hathaway's friend Doug in the 2006 film "The Devil Wears Prada" and, in that same year, he appeared in two episodes of NBC's hit comedy "The Office" -- and had a serious crush on Pam (Jenna Fischer).

Someone who took lessons from Don Draper thought it was a good idea to bring back this 2005 Excedrin commercial of Elisabeth Moss recently. Watch the actress pushing the medicine, just two years before Peggy Olson walked into our lives.

On the opposite end of the TV spectrum from "Mad Men," Aaron Staton had a stint on the preachy family drama "7th Heaven" as Daniel, who had feelings for young mother Haylie Duff's character, Sandy and wound up in a love triangle -- and a sweater vest. (Watch around eight minutes in.)

Of his earlier roles, John Hamm's bit -- and bespectacled -- part in his wife's (Jennifer Westfeldt) indie romantic comedy "Kissing Jessica Stein" is arguably his most well known. He was also in an episode of "Gilmore Girls," "The Hughleys," "Charmed" and many more '90s and early '00s programs. One of his longest runs, however, was on the Barry Watson-helmed 2006 drama "What About Brian." The "7th Heaven" connections never end.

Long before she made "Zou Bissou Bissou" relevant again or married Don Draper, Canadian native Jessica Pare starred in an indie lesbian teen drama set at an all-girls boarding school. And who would have thought they'd all be TV stars one day: "Lost & Delirious" also stars "The O.C." alum Mischa Barton, "Covert Affairs" star Piper Perabo and Emily VanCamp, the leading lady of "Revenge."

In 1989, Texas-born Jay R. Ferguson was still a teenager when he was plucked out of obscurity to play Ponyboy in the TV adaptation of "The Outsiders," which also starred Matt Dillon as Dallas Winston and David Arquette. After following that up with early '90s sitcom "Evening Shade," Ferguson left Hollywood and only had a few guest starring roles before heading to SCDP as art director -- and Peggy's nemesis -- Stan Rizzo.

Want to know what Bert Cooper was actually doing around the time "Mad Men" is set? Starring on Broadway and in the 1967 film version "How to Succeed in Business Without Really Trying."