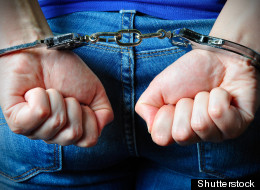 It's always best to pay attention to professors, but it's sometimes what they say and do outside of the classroom that attracts the most attention.
Sometimes the people in charge of shaping America's bright young minds don't act with great intelligence themselves. We've seen faculty arrested alongside students in protests, academics charged with smuggling drugs and even professors in the middle of prostitution scandals.
Take a look at 10 cases where professors allegedly broke the law:
10 College Profs And Faculty Behaving Badly
Max Reinhart, a 65-year-old professor of Germanic and Slavic studies at the University of Georgia, was arrested and charged with prostituting himself for $60 and for allegedly running a prostitution house. Reinhart allegedly posed as a woman named "Sasha" in the transexual escort services section of Backpage.com, a well-known classifieds website targeted by activists and law enforcement alike for its featured advertisements.

Firefighters discovered child pornography while putting out a fire at the waterfront home of 76-year-old Gamal El-Zoghby in New Jersey in January 2012. The AP reported that the firefighters were checking for hidden pockets of flame behind the walls by pulling down panels of sheet rock when a single magazine from the 1970s with pornographic images of pre-pubescent girls fell from behind one of the panels. The firefighters also found 60 to 70 vintage Playboy and Hustler magazines.

On the Friday after Thanksgiving, Stanford Professor Bill Burnett and his wife Cynthia hosted a party for their son and his friends -- 16 and 17-year-olds -- to celebrate a football win. They bought chips and soda, but were clear about one rule: no alcohol allowed. Cops arrived, responding to a noise complaint and allegations that there was underaged drinking. Though the Burnetts insisted that there was no drinking, the police found alcohol that, they say, the teens snuck in. Burnett was arrested and charged with 44 counts of contributing to the delinquency of a minor -- one for each teen at the party. Because of social host laws, parents are liable when underage kids drink on their property -- even if they're unaware that it's happening.

J. Wesley Boyd, a psychiatrist who teaches at Harvard Medical School, and his wife, Theonia, a pathologist who also teaches at the medical school, were arrested at a party after police alleged that underage drinking was happening. Boyd said he and his wife had told the students that there would be no drugs or alcohol allowed at the party. He also said he and his wife and another couple had monitored the party without seeing any alcohol. But several of the students admitted that they had been hiding the drinking from him.

In March, Wheaton College professor Donald Ratcliff was arrested for allegedly possessing child pornography and two unlicensed handguns. Ratcliff was charged with two counts of Aggravated Child Pornography and was placed on administrative leave. He taught Christian education and child spirituality.

Protests aren't just for students. In a demonstration protesting Gov. Andrew Cuomo's cuts to CUNY's senior and community campuses, 33 members of CUNY's Professional Staff Congress union were arrested , in acts of civil disobedience.

Princeton University professor Cornell West was a big supporter of Occupy Wall Street and traveled to a few of the movement's camps. West was arrested in an act of civil disobedience with 18 others on the steps of the U.S. Supreme Court building in a demonstration against the Citizens United decision.

California State University economics professor Kenneth Ng openly admitted to being the scribe behind BigBabyKenny.com, a site that guides tourists through Thailand's sex trade. Ng defended his blogging on the site as "free speech."